2023 May 27 morning
   Val George tallied Cabbage White 37; Western Tiger Swallowtail 6; Pale Tiger Swallowtail 2; Western Spring Azure 6; Painted Lady 6; Red Admiral 1  on Mount Douglas on May 25.  He photographed a Nadata gibbosa on the wall of his Oak Bay house on May 26.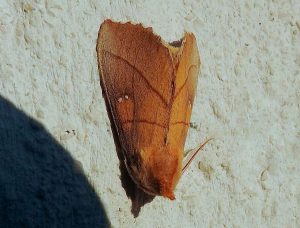 Nadata gibbosa  (Lep.: Notodontidae)   Val George
Kirsten Mills sends a photograph of a pair of Pacific Forktails from McIntyre Reservoir, May 25, and a Common Green Darner from Blenkinsop Lake, May 27.  She also repo...