2022 May 26 morning
Gordon Hart sends photographs of caterpillars of the Sheep Moth Hemileuca eglanterina from Snowberry in Uplands Park, May 24. In the second photograph you can see the cast skins (exuviae) of the previous instar.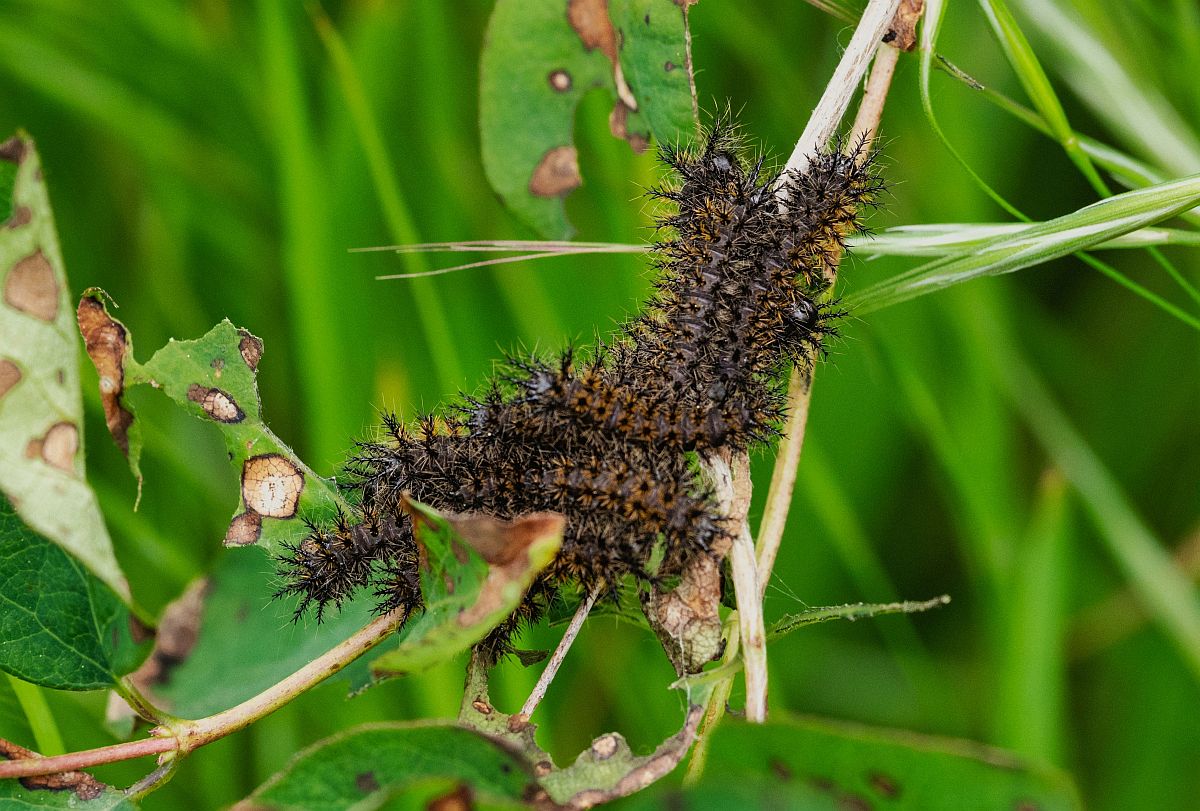 Sheep Moth Hemileuca eglanterina (Lep.: Saturniidae) Gordon Hart
Sheep Moth Hemileuca eglanterina (Lep.: Saturniidae) Gordon Hart
I have noticed (writes Jeremy Tatum) that some recent authors (not Gordon!) have taken to calling this moth the "Elegant" Sheep Moth. This is strongly to be discouraged – it shows ignorance of etymology rather than knowledge of entomology. The species name eglanterina is derived from one of the larval foodplants, the sweetbrier (sometimes spelled briar) rose Rosa eglanteria, and has nothing whatever to do with "elegant". The exact etymological origin of eglanteria is somewhat uncertain , but it is believed to mean "spiny" or "sharp" – the sweetbrier has quite large spines.
These caterpillars are fairly conspicuous at this time of year, so viewers are reminded that they should not be handled. They have poisonous spines of their own, and can give you quite a rash.
Jeremy Tatum writes: I happened to notice the egg shown below at Munn Road yesterday – it was hard to miss. Any moth-er will instantly know what it is. From its shape and form it is a geometrid ovum, and it is fairly large – so we have large geometrid moth. The leaves have spines, and will be recognized as Mahonia. A large geometrid moth whose larval foodplant is Mahonia could scarcely be anything other than Coryphista meadii.
Coryphista meadii (Lep.: Geometridae) Jeremy Tatum