2019 June 21
Jeremy Tatum reports that, at 6:30 pm yesterday evening, he saw an Anise Swallowtail at the entrance to the reservoir on Mount Tolmie. This evening, June 21, there were about six Painted Ladies and a Lorquin's Admiral on the top of Mount Tolmie, but I didn't see the Anise Swallowtail.
Marie Shaughnessy writes that she saw and photographed a Common Emerald Moth (a European invader!) on the grass on Linden Street on June 18. She writes that she hasn't seen a green moth before.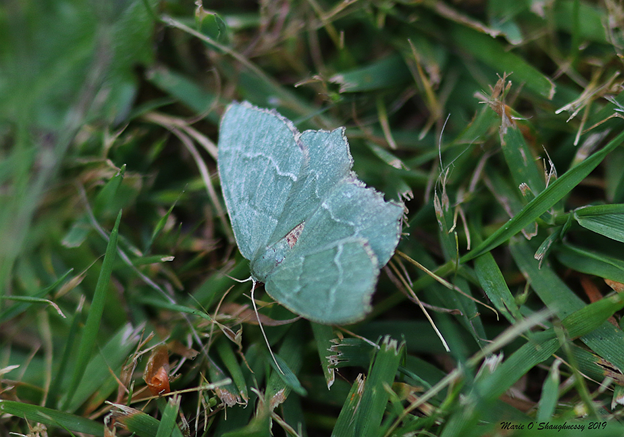 Common Emerald Hemithea aestivaria (Lep.: Geometridae) Marie O'Shaughnessy
Butterflies, moths and dragonflies have been well-represented recently, so I hinted (writes Jeremy Tatum) to Scott Gilmore that we would welcome some beetles, and Scott promptly obliged! Scott writes: Here are a couple of beetles from Lantzville to fill the void. This first is Uloma longula from the family Tenebrionidae. It occasionally turns up at lights and I found this one on the night of June 12 at my house. The second one is from the genus Heteroceris (family Heteroceridae, the Varigated Mud-loving Beetles) which I found on the edge of a local pond on June 16.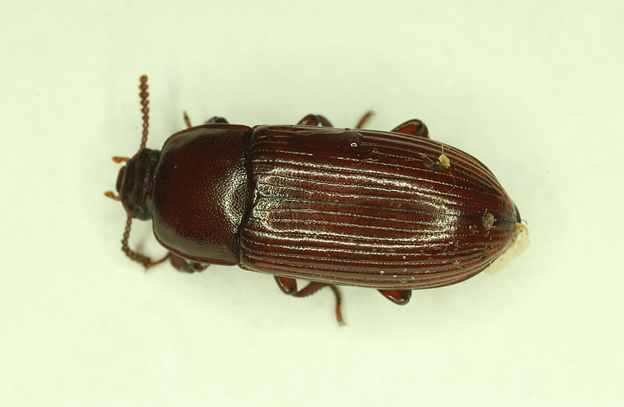 Uloma longula (Col.: Tenebrionidae) Scott Gilmore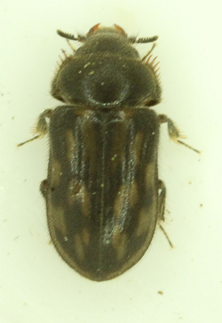 Heterocerus sp. (Col.: Heteroceridae)
Scott Gilmore
Jeremy Tatum writes: Today, June 21, at Royal Roads University, I saw about half-a-dozen each of caterpillars of Satyr Comma and Painted Lady. The Painted Lady caterpillars were on Onopordum, that gigantic "Cotton Thistle". The commas were, as usual, on Stinging Nettle.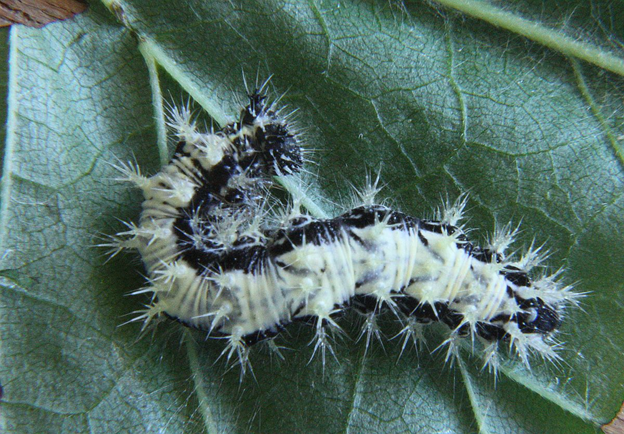 Satyr Comma Polygonia satyrus (Lep.: Nymphalidae) Jeremy Tatum
Here is a caterpillar of Egira crucialis, a noctuid woodling moth whose adult is seen in early spring. I have found this caterpillar on several plants, e.g. Salmonberry, Salal, Hardhack, Alder, but there is no doubt what it really likes to eat – the flowers of Ocean Spray. This one is eating some with a fervour that is a joy to watch.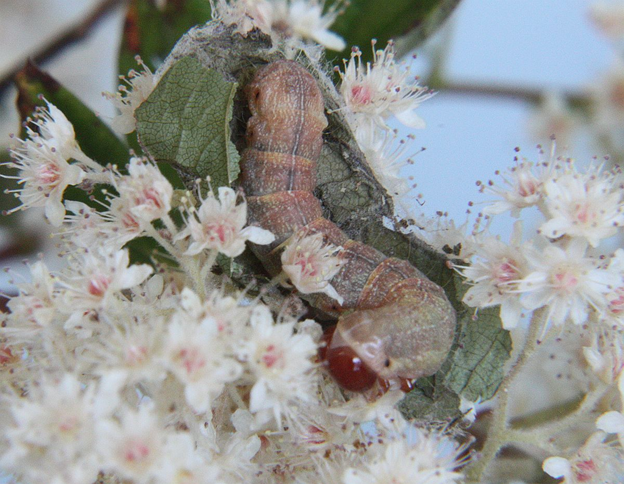 Egira crucialis (Lep.: Noctuidae) Jeremy Tatum