2019 April 29 morning
Jeremy Tatum writes: Apologies to viewers, for no movement on Invert Alert since Thursday. This was because of a computer technical hitch, which did not allow me access to the site! I believe it is fixed now. There will be another posting this afternoon to help clear the big backlog that accumulated over the sunny weekend.
Annie Pang writes: I got these shots on April 20th here in Victoria, BC over at a neighbour's place whose apple tree was infested with Woolly Apple Aphids.This bee looks to be a female Andrena species and it sure was busy collecting pollen off the blossoms!
Thanks to Lincoln Best for confirming Annie's identification of genus and sex, and for suggesting that it is probably A. perplexa.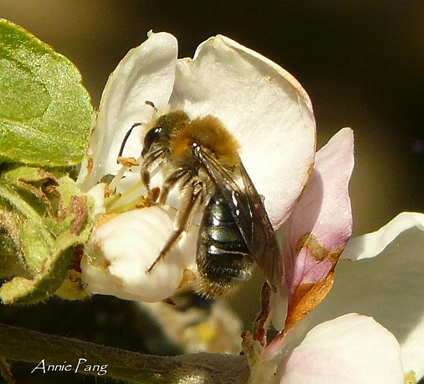 Adrena (probably perplexa) (Hym.: Adrenidae) Annie Pang
Adrena (probably perplexa) (Hym.: Adrenidae) Annie Pang
Aziza Cooper writes: On April 26 at Viaduct Flats I saw three Western Spring Azures. The photo also shows another strange creature, like a large ant. [Jeremy Tatum writes: It is a large ant! Probably Formica sp.]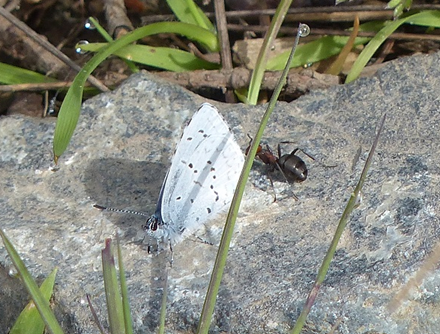 Western Spring Azure Celastrina echo (Lep.: Lycaenidae)
and ant (probably Formica sp.) Aziza Cooper
Aziza continuies: On April 27 on the west slope of Mount Douglas we saw about five Sara Orangetips, and four Propertius Duskywings. The photo shows a duskywing with a lot of white – more than I remember as being typical. Cris Guppy writes: It is female, because of the very fat abdomen and also because of the well-developed whitish markings all over the forewings. Males have less whitish coloration other than the white spots.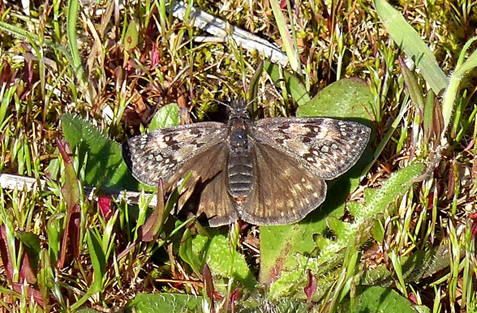 Propertius Duskywing Erynnis propertius (Lep.: Hesperiidae) Aziza Cooper
Jeremy Tatum sends a photograph of a rough stink bug from inside his Saanich apartment.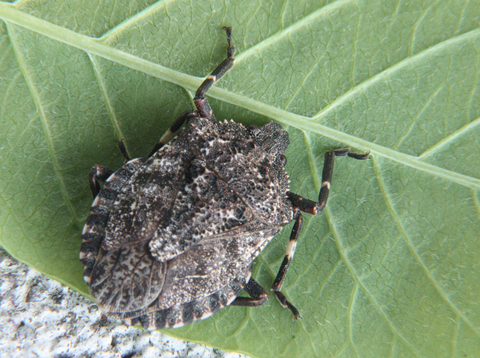 Rough stink bug Brochymena sp. (Hem.: Pentatomidae) Jeremy Tatum
Here is a recent photograph by Jochen Möhr of a Feralia species. These can be difficult, but Libby Avis identifies it as Feralia comstocki.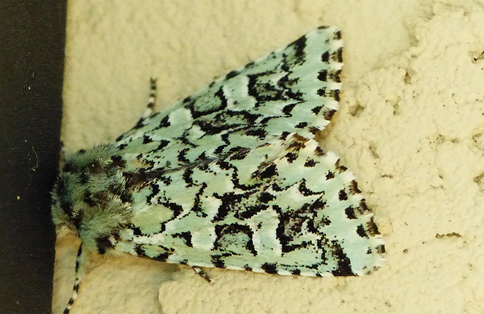 Feralia comstocki (Lep.: Noctuidae) Jochen Möhr
Libby Avis writes from Port Alberni: Attached are photos of today's silk moth – Hyalophora euryalus subspecies euryalus.
This one is an example of the "brown" phenotype known only from southern Vancouver Island – the body is completely brown. There is another "normal" phenotype also known from the island which has white markings on the body and collar. They interbreed and we get both forms in Port Alberni. Have attached another photo of the "normal" phenotype taken here in 2016 for comparison.
I also tracked down a paper on this from the Journal of the BC Entomological Society: https://journal.entsocbc.ca/index.php/journal/article/view/507/517
I know there have been other sightings in past years reported on the Invertalert, but I haven't gone back to see what they look like – would be interesting to find out if they are a mix of forms too.
Jeremy Tatum writes: Well, if anyone would like to look through Invert Alert for previous Vancouver Island photographs of H. euryalus, the dates are as follows: 10Jun04; 13Apr28; 13May08; 13May29; 14May16;15Apr24;15May20; 16Apr12; 16Apr23;17Aug05; 18May12;
The one on my Furman University website http://facweb.furman.edu/~snyderjohn/tatum/278-283.htm appears to be the "normal" sort.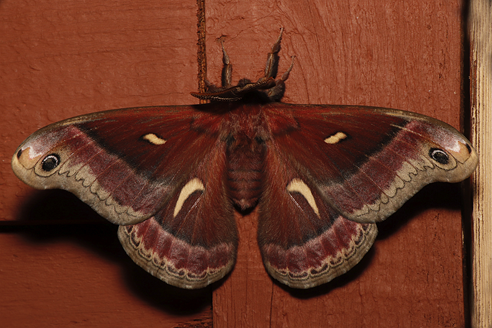 Hyalophora euryalus, "brown" form (Lep.: Saturniidae) Libby Avis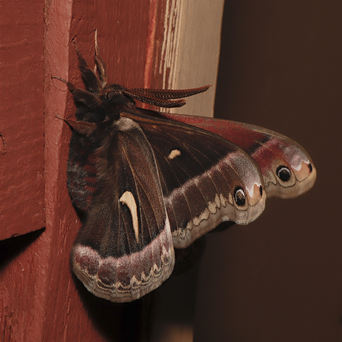 Hyalophora euryalus, "brown" form (Lep.: Saturniidae) Libby Avis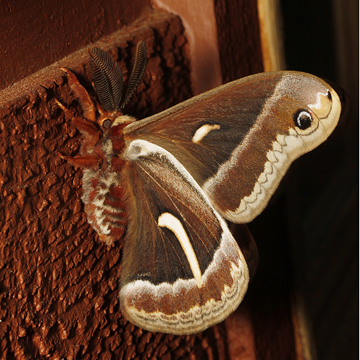 Hyalophora euryalus, "normal" form (Lep.: Saturniidae)
2016 photograph Libby Avis
From a very large moth to a very small one, the moth below came from a Brussels sprout today. It is Plutella xylostella, which is reputed to be one of the most widespread moths in the world – wherever they grow cabbages, presumably. I didn't measure the moth, but the length of the pupa from which it emerged was 5 mm.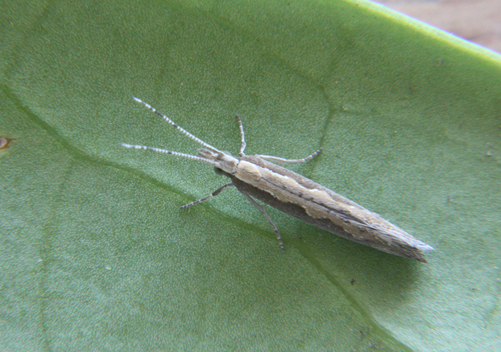 Plutella xylostella (Lep.: Plutellidae) Jeremy Tatum
Jochen Möhr's count from Metchosin, morning of April 28:
4 Eupithecias (pugs)
3 Venusia obsoleta/pearsalli
1 Apamea cinefacta
1 Drepanulatrix monicaria
1 Egira perlubens
1 Feralia comstocki
1 Hydriomena manzanita
1 Orthosia transparens
Pictures of some of them, with thanks to Libby Avis for identifications: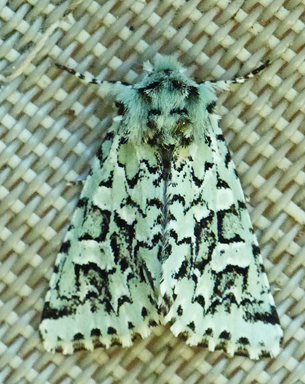 Feralia comstocki (Lep.: Noctuidae) Jochen Möhr
Of the next one, Libby writes: Apamea cinefacta – I think, but same as one we deliberated over last year and both Jeremy and I decided this was the most likely culprit!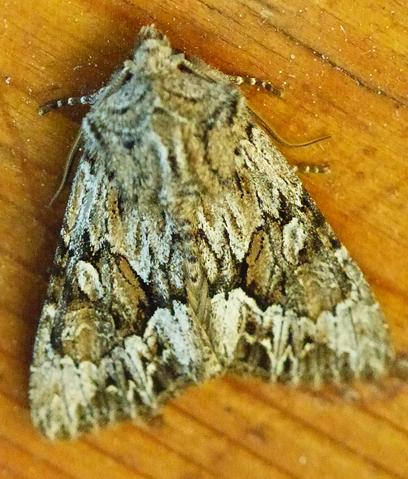 Apamea cinefacta (Lep.: Noctuidae) Jochen Möhr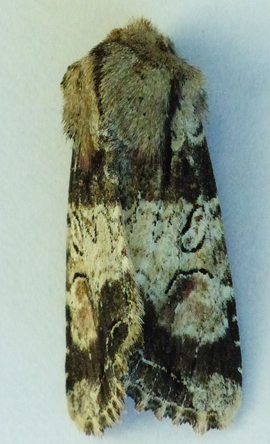 Egira rubrica (Lep.: Noctuidae) Jochen Möhr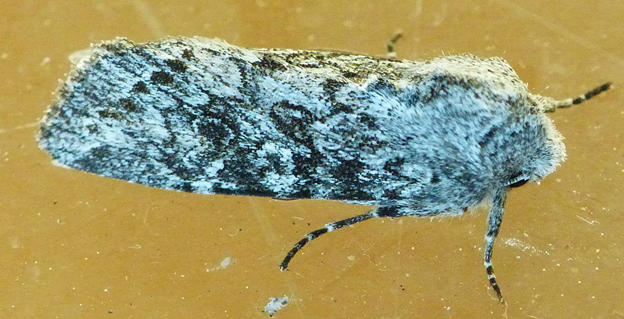 Egira curialis (Lep.: Noctuidae) Jochen Möhr
Jeremy Tatum and Bill Savale walked along the railway line north of Cowichan Station on April 28, and we saw 8 Margined Whites, 2 Western Spring Azures, 1 Satyr Comma and 1 Cedar Hairstreak. And of course we could hardly miss the two ova (eggs) on the underside of a Cascara leaf, shown below, next to two millimetre scales.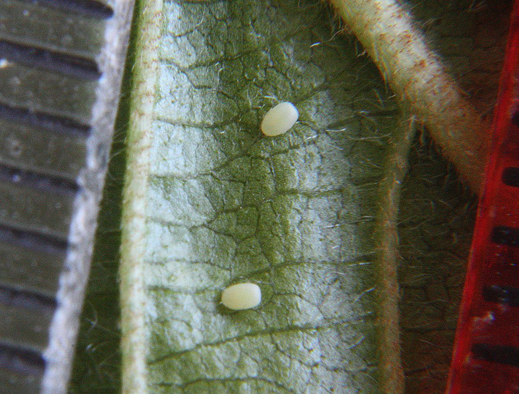 Triphosa haesitata (Lep.: Geometridae) Jeremy Tatum
Wendy Ansell saw her first dragonfly of the season on April 28 on Christmas Hill. Rob Cannings comments that April is really early for aeshnids here. Thanks to Rob for identifying Wendy's dragonfly as Rhionaeschna californica.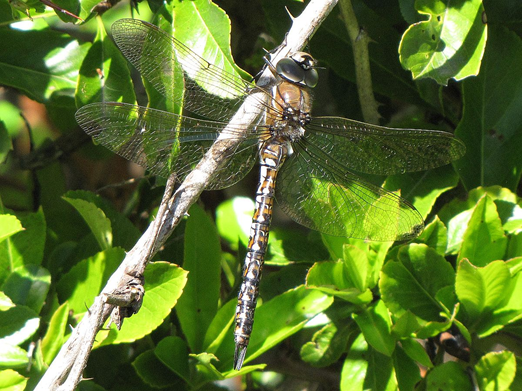 California Darner Rhionaeschna californica (Odo.: Aeshnidae) Wendy Ansell