2020 August 19 afternoon
   Jochen Möhr's moths from Metchosin this morning:
1 Amorbia cuneanum
1 Campaea perlata
1 Aseptis binotata
1 Dasychira grisefacta
4 Eulithis xylina
1 Evergestis funalis 
1 Hydriomena speciosata
2 Lacinipolia strigicollis
2 Neoalcis californiaria 
1 Perizoma curvilinea
1 Pyrausta perrubralis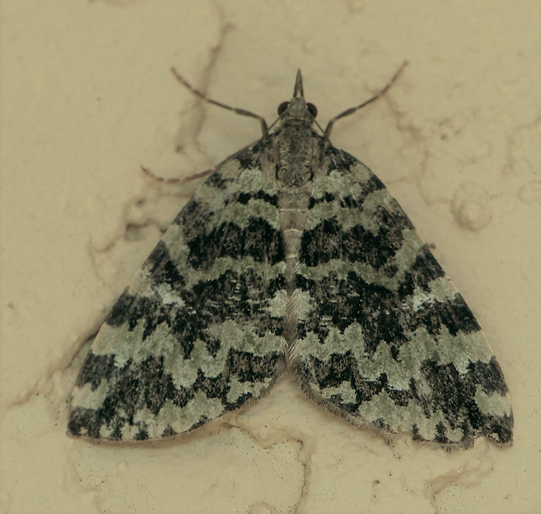 Hydriomena speciosata (Lep.: Geometridae)  Jochen Möhr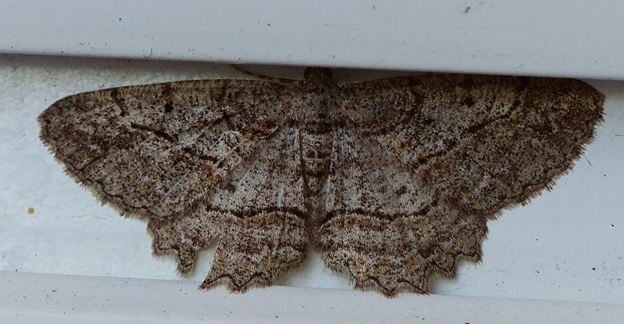 Neoalcis californiaria (Lep.: Geometridae)  Jochen Möhr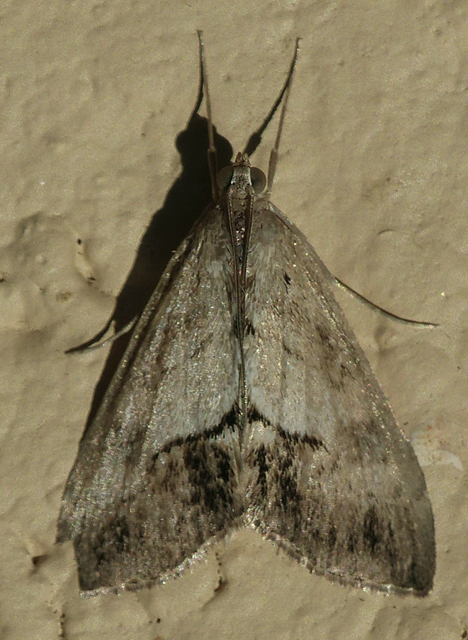 Evergestis funalis  (Lep.: Crambidae)  Jochen Möhr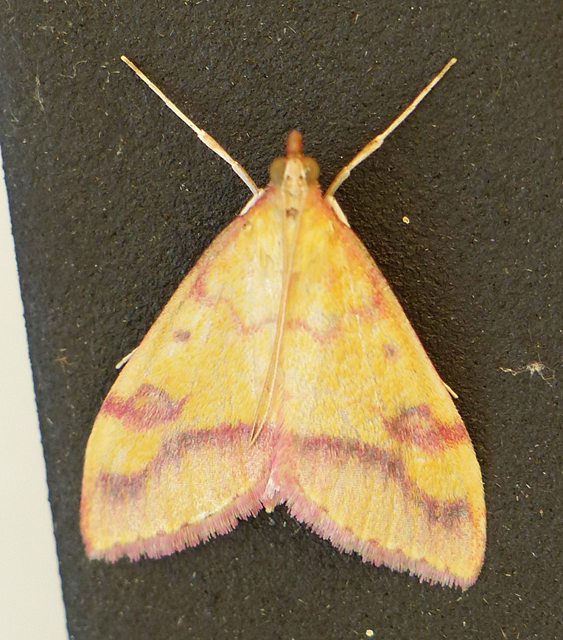 Pyrausta perrubralis (Lep.: Crambidae) Jochen Möhr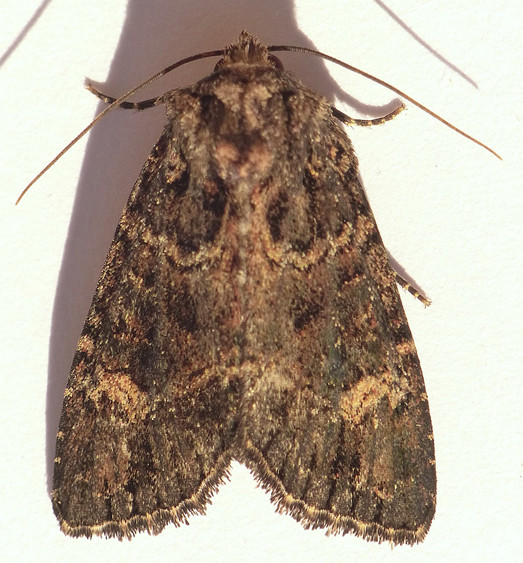 Aseptis binotata (Lep.: Noctuidae)  Jochen Möhr
   Jeremy Tatum writes:  In this morning's posting I said how embarrassed I was at having mistaken a caterpillar of a noctuid dagger moth Acronicta impleta  for a species of tussock moth (Orgyia, Dasychira) of a quite different Family  (Erebidae – Lymantriinae).   I am slightly comforted to learn that I am not the first person to be so deceived.  In Wagner et al.'s book on noctuid caterpillars, under the description of Acronicta impleta I read:  The Yellow-haired Dagger provides a promising case for larval mimicry: its caterpillar looks remarkably like those of a tussock moth in the genus Dasychira, sharing the same overall shape, lashes and tufts.  It matches in detail; e.g., the setae that make up the shorter tufts are densely plumed and downy, like those of a tussock moth caterpillar.  Behaviours, too, are copied; when  alarmed, the Yellow-haired Dagger caterpillar will arch its first two abdominal segments, more fully displaying its tufts, in much the same fashion as the true tussock moths.  As further evidence of the resemblance, let it be known that two of the coauthors of this volume believed they had collected a tussock moth caterpillar at the time the larva was boxed up to Connecticut to be photographed and reared.
I hope, therefore, that my temporary lapse will be forgiven.
In any case:  If any viewer comes across a tussock caterpillar, please, please retain it.  I can give immediate advice on keeping it, or may be able to come and fetch it myself.  Quite apart from the possible confusion with the dagger, a new question has arisen, asked both by Sharon Godkin and David Wagner:  O.antiqua is supposed to have lateral pencils on T3, but these seem to be absent on the caterpillars in this morning's photographs.   Also, are we correctly distinguishing between O. antiqua  and O. pseudotsugata?
Bottom line:   If you find any tussock caterpillars, please retain them and let us know a.s.a.p.  We are most interested in studying them.
Well, not quite the bottom line.  Just before we go to press I heard from Jeff Gaskin, who writes:
There were 42 Ringlets at Layritz Park this morning August 19.  Plus a further  11 Ringlets and 5 Woodland Skippers in the fields on the Horticultural Centre Lands by Markham Road.
And one more last thing, before I press the Send button.  Jochen Möhr's Orgyia pseudotsugata  (and  I think there can be no doubt what it is) has just formed a cocoon: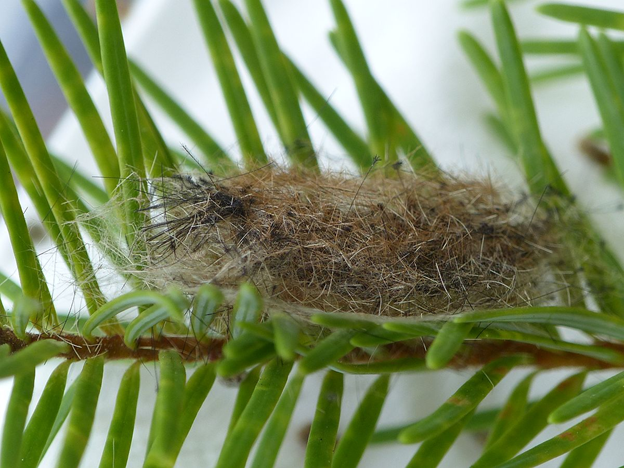 Orgyia pseudotsugata (Lep.: Erebidae – Lymantriinae)  Jochen Möhr