2019 August 18 morning
Jeremy Tatum writes: I don't think I have found a permanent solution to the computer problem that beset Invert Alert recently, but I am posting two photographs here as a test. If they work all right, we may try opening up Invertebrate Alert to photographs again. I'll let you know in the next posting. Apologize to those who who did not have their photographs posted in the past week. In the meantime, please continue to send text reports of interesting sightings,
The photographs below show a harvestman on the wall of my Saanich apartment building yesterday.
The name "daddy-long-legs" is used for several different insects, spiders and harvestmen in different parts of the English-speaking world, so perhaps it is best to stick to the name "harvestman". In England the name "daddy-long-legs" is used for a crane fly. I have never seen this, but I have read that harvestmen from time to time undergo ecydsis, when they shed their entire skin, legs included, in one piece. The second pair of a harvestman's legs are longer than the others. It uses the second pair for tactile exploring, although it is thought that these legs may also have olfactory or chemical sensors. Sometimes a harvestman will lose one or more legs through accident, and these legs do not degererate. The loss of one or two legs does not unduly incommode the animal, unless it loses one of the second pair, in which case the animal is more seriously inconvenienced.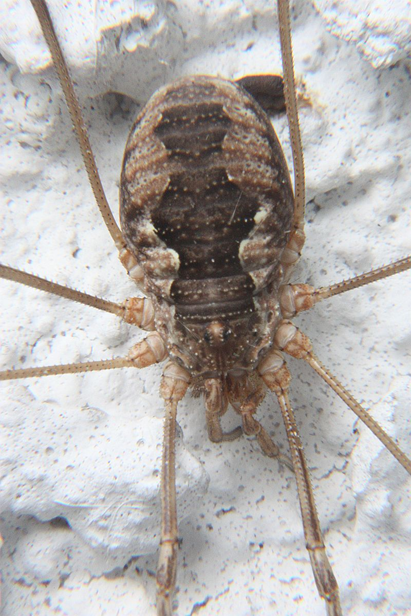 Phalangium opilio (Opil.: Phalangiidae) Jeremy Tatum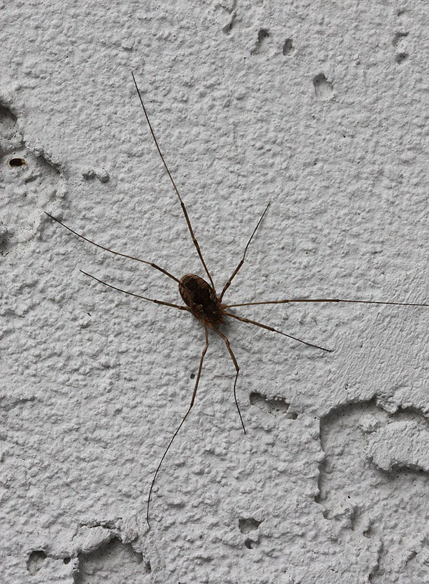 Phalangium opilio (Opil.: Phalangiidae) Jeremy Tatum