2021 June 25
    Jeremy Tatum writes:  This small moth, which I'll tentatively label Choristoneura occidentalis, came into my apartment yesterday.  In forestry circles its caterpillar is known as the Western Spruce Budworm.  I believe the foresters don't like it very much.  This is part of a complex coming under the heading "Choristoneura fumiferana (or fumerana) group"  According to Powell and Opler, "the western components defy suitable placement by our nomenclatural system."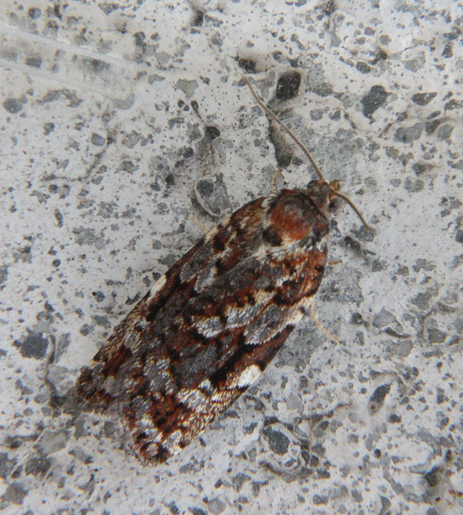 Choristoneura occidentalis (Lep.: Tortricidae)   Jeremy Tatum
I found this caterpillar on a willow at Durrance Lake.   The long fine hairs mark it as Nycteola sp.
The two commonest Nycteola  species here are N. frigidana and N. cinereana.  The caterpillars of frigidana are supposed to feed on Salix and those of cinereana  on Populus – but I don't know if this is rigidly true.  I'll label it "probably" frigidana for the moment – but we'll see when the adult moth emerges.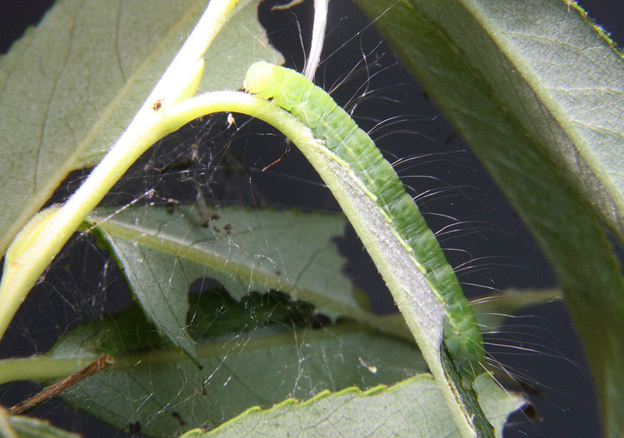 Nycteola (probably frigidana)  (Lep.: Nolidae)  Jeremy Tatum
And here is a Red Admiral caterpillar, from Stinging Nettle near Blenkinsop Lake.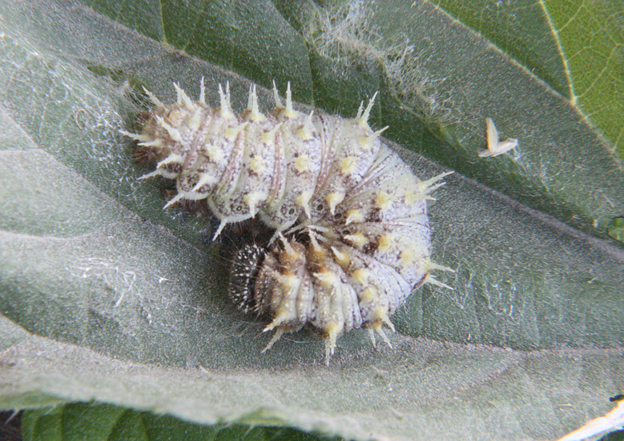 Red Admiral Vanessa atalanta (Lep.: Nymphalidae)  Jeremy Tatum
On June 1 we posted a photograph by Steven Roias of the caterpillar of a Mouse Moth.  The adult moth emerged today and I released it, after photographing it, at Panama Flats, where there is probably a colony of them.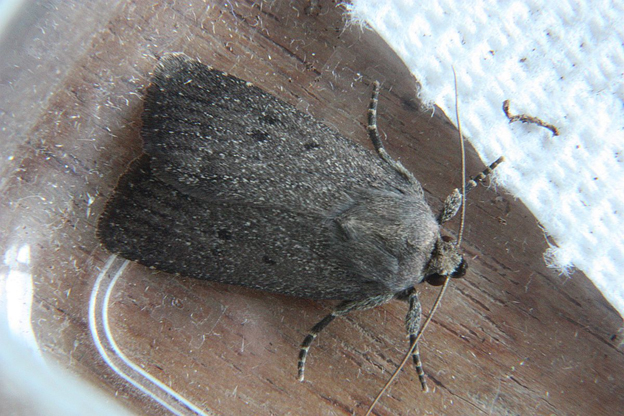 Mouse Moth Amphipyra tragopoginis (Lep.: Noctuidae)  Jeremy Tatum
We referred yesterday to reports of "butterflies" in Uplands Park, although we speculated that these might in fact have been Sheep Moths.  Elizabeth Garrett has since photographed two of them, and indeed that is what they are: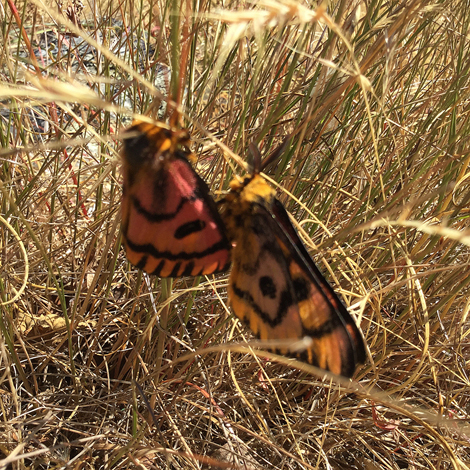 Sheep Moths Hemileuca eglanterina (Lep: Saturniidae) Elizabeth Garrett
Today, in the heat of the day, there are also many Sheep Moths charging at high speed over Mount Tolmie.  More about Mount Tolmie at the end of this posting.
On June 5 we mentioned that Sandringham Care Home on Fort Street had acquired a kit of 29 Painted Lady caterpillars.  The adult butterflies arising from these were released in the Sandringham garden yesterday.  The hope was that they would stay there.  However, the Painted Lady is a long-distance migrant and a powerful flower, so I'm not sure if many will stay.  If any viewer sees any Painted Ladies in that area, please do let us know.
Liam Singh writes:  I just wanted to let you know that I saw at least 5 Black Saddlebags at Swan Lake on June 24. They were about 100m east of the lollipop boardwalk chasing each other. I even saw a pair mating and then laying eggs in the water!  I've attached a photo of one that I was able to catch (after waiting two hours for it to fly close enough).  I've also attached a photo of a male Common Green Darner that I caught (one of many present).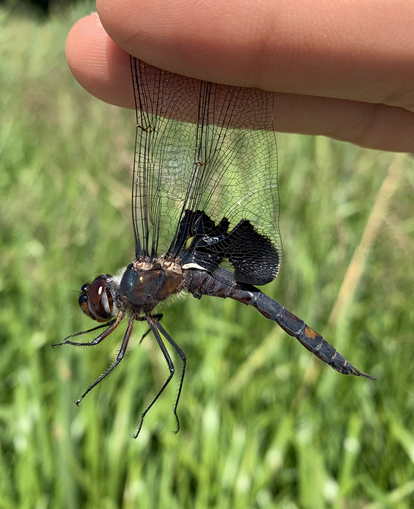 Black Saddlebags Tramea lacerata (Odo.: Libellulidae)  Liam Singh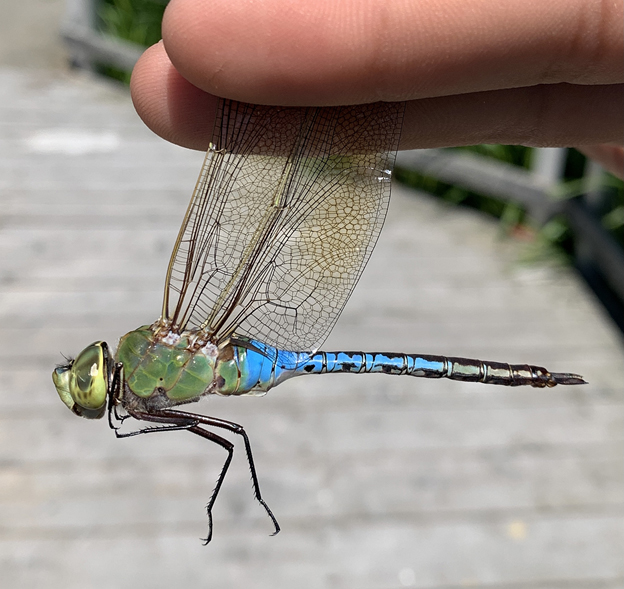 Common Green Darner Anax junius (Odo.: Aeshnidae)   Liam Singh
[Jeremy Tatum writes:  In spite of its name, the Common Green Darner, while not rare, is not particularly "common", and is one of our more spectacular dragonflies.]
Jeff Gaskin writes:  Kirsten Mills and I saw up to 6 Clodius Parnassians in their usual place along Nanaimo River Road around km 9 from the hwy.  This was on June 24 around 2 p.m.
Butterfly enthusiasts are reminded that last year some parnassians were seen that were suspected to be possibly P.smintheus.  Those who see parnassians are asked to keep a sharp look out and see if any of them might be this species.
Jeremy Tatum writes:  I was on Mount Tolmie this morning, and I looked at an interesting large poster near the top, which I hadn't noticed before, describing the history, natural history and geology of Mount Tolmie.  One thing it said was that the thing that we have been calling the "reservoir" is indeed just that – a water reservoir.  It also said that there are 11 species of butterfly to be seen on Mount Tolmie.  It didn't list them, but let's make an attempt now:
Propertius Anglewing
Essex Skipper
Woodland Skipper
Anise Swallowtail
Western Tiger Swallowtail
Pale Tiger Swallowtail
Cabbage White
Sara Orangetip
Purplish Copper
Western Brown Elfin
Grey Hairstreak
Western Spring Azure
California Tortoiseshell
Mourning Cloak
Painted Lady
West Coast Lady
Red Admiral
Wow!  That's 17!  Are there more I should add?
Geologically much of Mount Tolmie is Wark gneiss, so we can look forward to a nice walk on the Wark gneiss.