2021 June 16 afternoon
   Here's a varied selection of insects that came in during the last few days while Invert Alert has been having computer problems.
A  fly caught in mid-hover at 1/3000 second by Gordon Hart.  Jeremy Tatum writes that in the original version of this posting, he had wrongly identified it as a probable Eristalis (Syrphidae).   We are grateful to Claudia Copley for pointing out that it is actually a tabanid of the genus Hybomitra.  Coincidentally, Jeremy Tatum saw a similar one in Goldstream Park on July 11.  It was remarkable how accurately it hovered every bit as well as a syrphid.  The Syrphidae include the attractive flower flies and hover flies (and a few less attractive ones such as the Narcissus Bulb Fly).   The Tabanidae include horse flies and other very painful biting flies.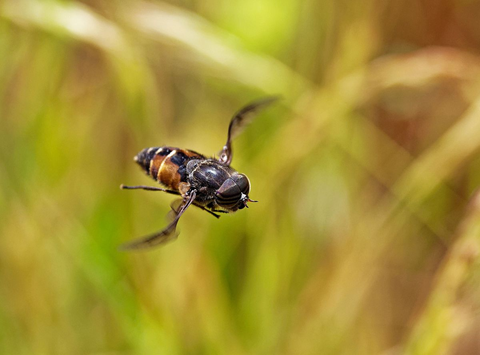 Hybomitra sp.  (Dip.: Tabanidae) Gordon Hart
A Cardinal Meadowhawk in characteristic pose at Panama Flats: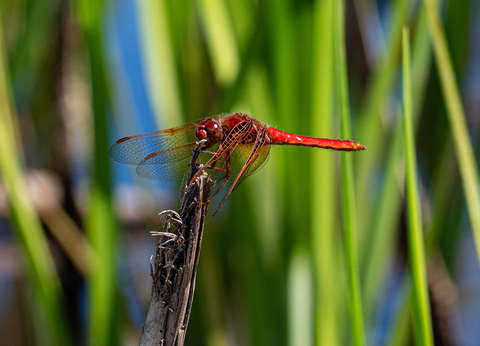 Cardinal Meadowhawk Sympetrum illotum  (Odo.: Libellulidae)  Gordon Hart
A male Purplish Copper  at Goldstream River, May 29, photographed by Ron Flower.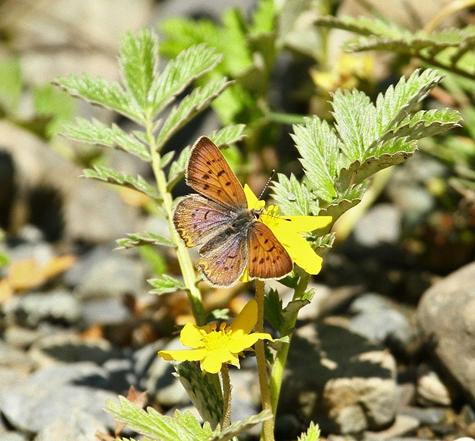 Male Purplish Copper Lycaena helloides (Lep.: Lycaenidae)
The first reported Essex Skipper of the season, seen by Val George at Cowichan Bay, June 14.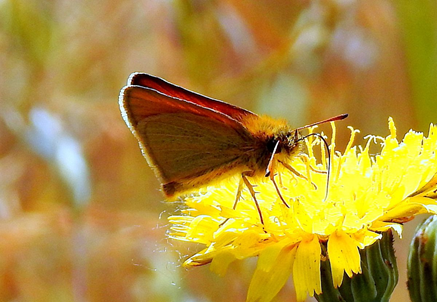 Essex Skipper Thymelicus lineola (Lep.: Hesperiidae)  Val George
A long-horned beetle seen on Yarrow by Leah Ramsay.   Thanks to Scott Gilmore for the identification.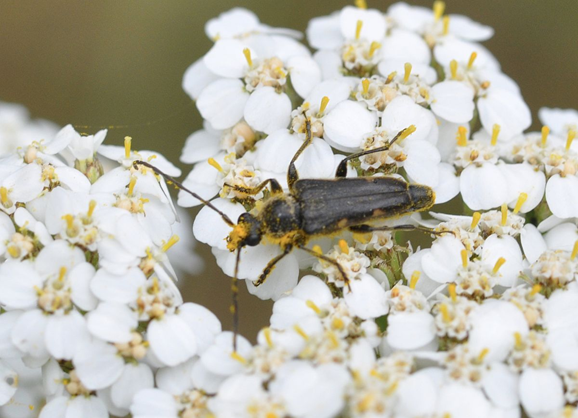 Toxoleptura vexatrix (Col.:  Cerambycidae)   Leah Ramsay
A hawk moth that we don't often see, photographed by Jochen Möhr in Metchosin.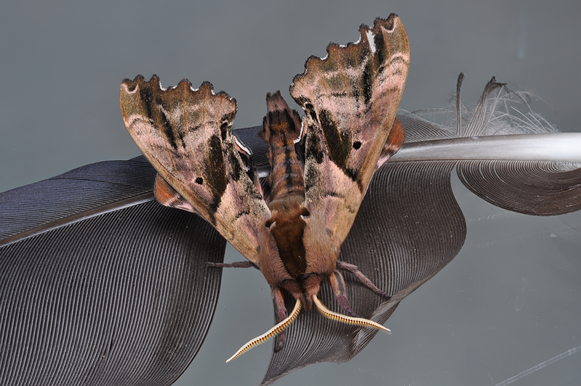 Paonias excaecata (Lep.: Sphingidae)  Jochen Möhr