2015 May 4
Aziza Cooper led a very successful Butterfly Walk on May 3. Here is a report on the walk by Aziza, plus some photographs by Aziza and by Val George.
The monthly butterfly walk had about 15 people and excellent weather – calm and sunny, and fairly warm. We began at Mount Tolmie with eight species in a short time:
Anise Swallowtail – 1 very fresh, allowing good looks and photos
Pale Swallowtail – 1 at summit briefly
Painted Lady – 1
Spring Azure – 8
Propertius Duskywing – 2
Cabbage White – 3
Sara Orangetip – 1 faded
Brown Elfin – 2
We went out to Gore and Oak Haven Parks in Brentwood Bay. Our only butterflies there were about 20 Spring Azures, and two briefly seen elfins. The flowers were magnificent!
Also seen was a lizard with two tails: weird and wonderful. (European Wall Lizard)
Two of us went to Mount Douglas summit on the way back, and the hilltopping butterflies were very numerous and active:
Painted Ladies – 12 or more
Red Admiral – 2
California Tortoiseshell – 1, possibly two
Propertius Duskywing – a cluster of three, with two others landing on them.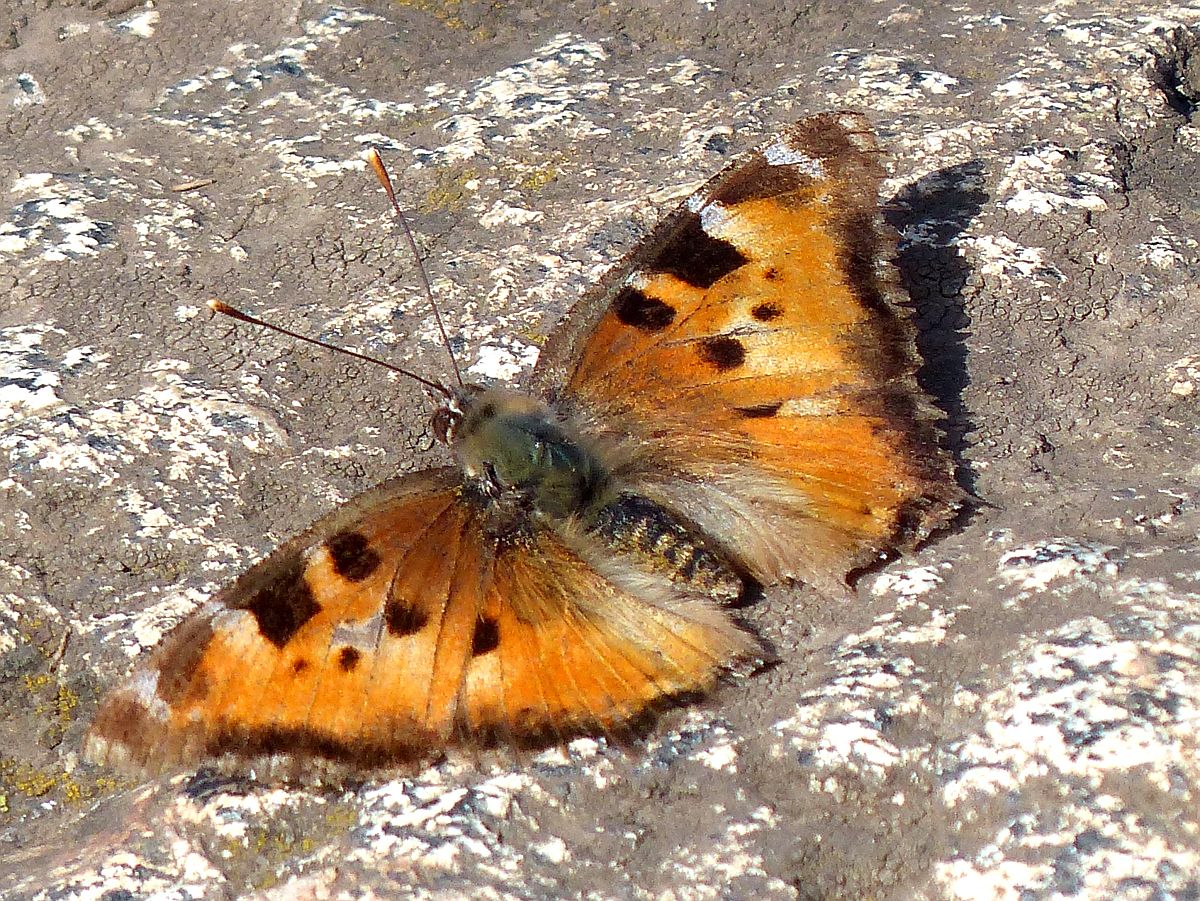 California Tortoiseshell Nymphalis californica (Lep.: Nymphalidae) Aziza Cooper
Aziza continues: Several small red moths were at Oak Haven Park. I managed to take a photo of one in flight. [Jeremy Tatum writes: This is the same tiny reddish geometrid that I mentioned on the May 2 posting as having been seen at Munn Road. In spite of its small size, it has an English name: Dark-ribboned Wave. Amazing to photograph this tiny moth in flight, with wings fully outstretched!]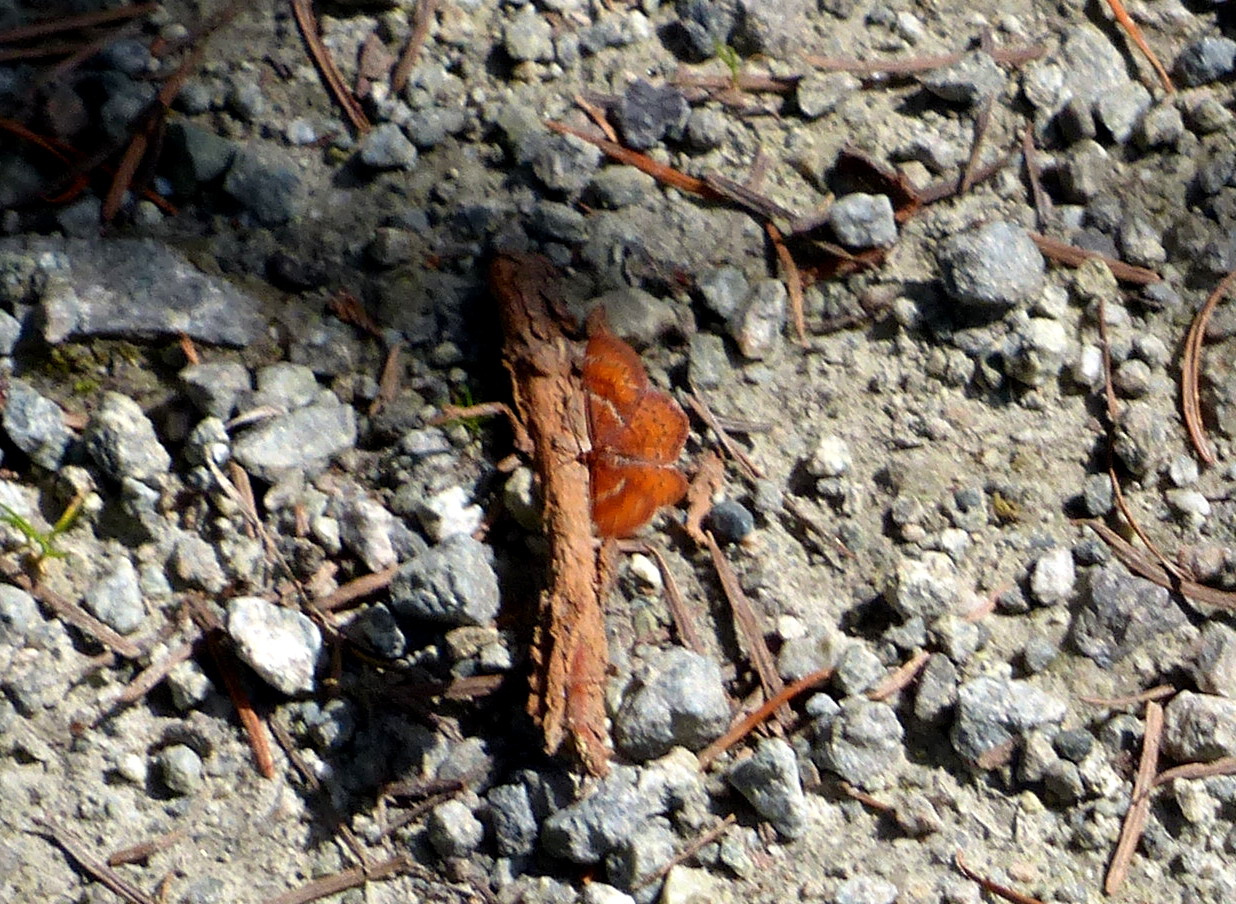 Dark-ribboned Wave Leptostales rubromarginaria (Lep.: Geometridae)
Aziza Cooper
And here are some of Val's photos from the Walk on Mount Tolmie.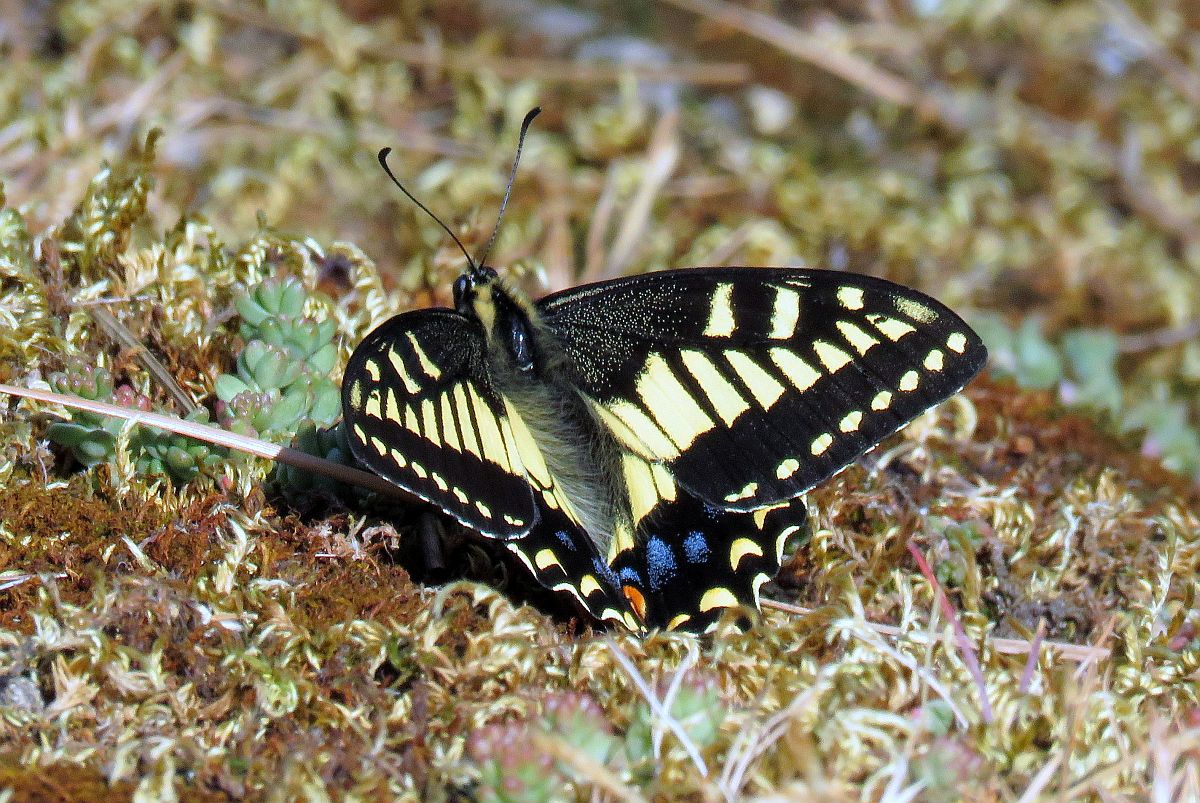 Anise Swallowtail
Papilio zelicaon
(Lep.: Papilionidae) Val George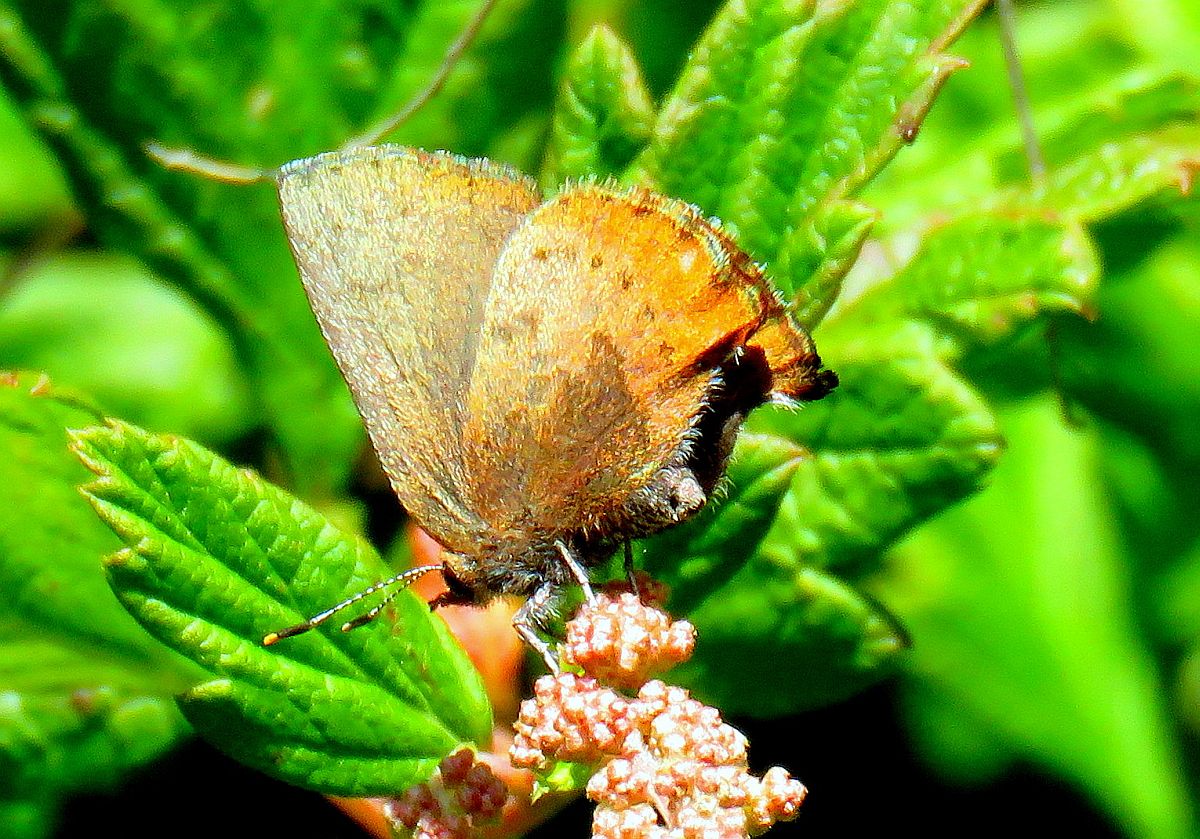 Western Brown Elfin
Incisalia iroides
(Lep.: Lycaenidae) Val George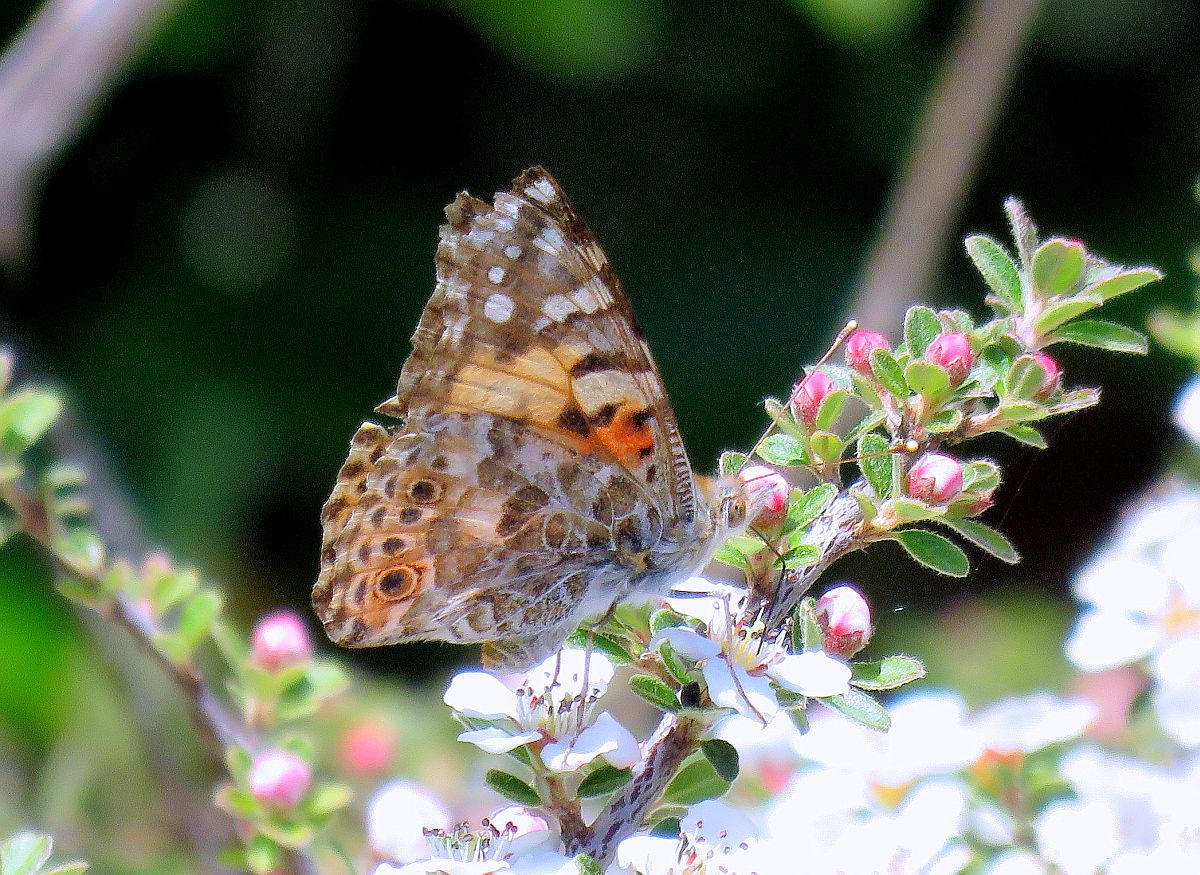 Painted Lady Vanessa cardui (Lep.: Nymphalidae) Val George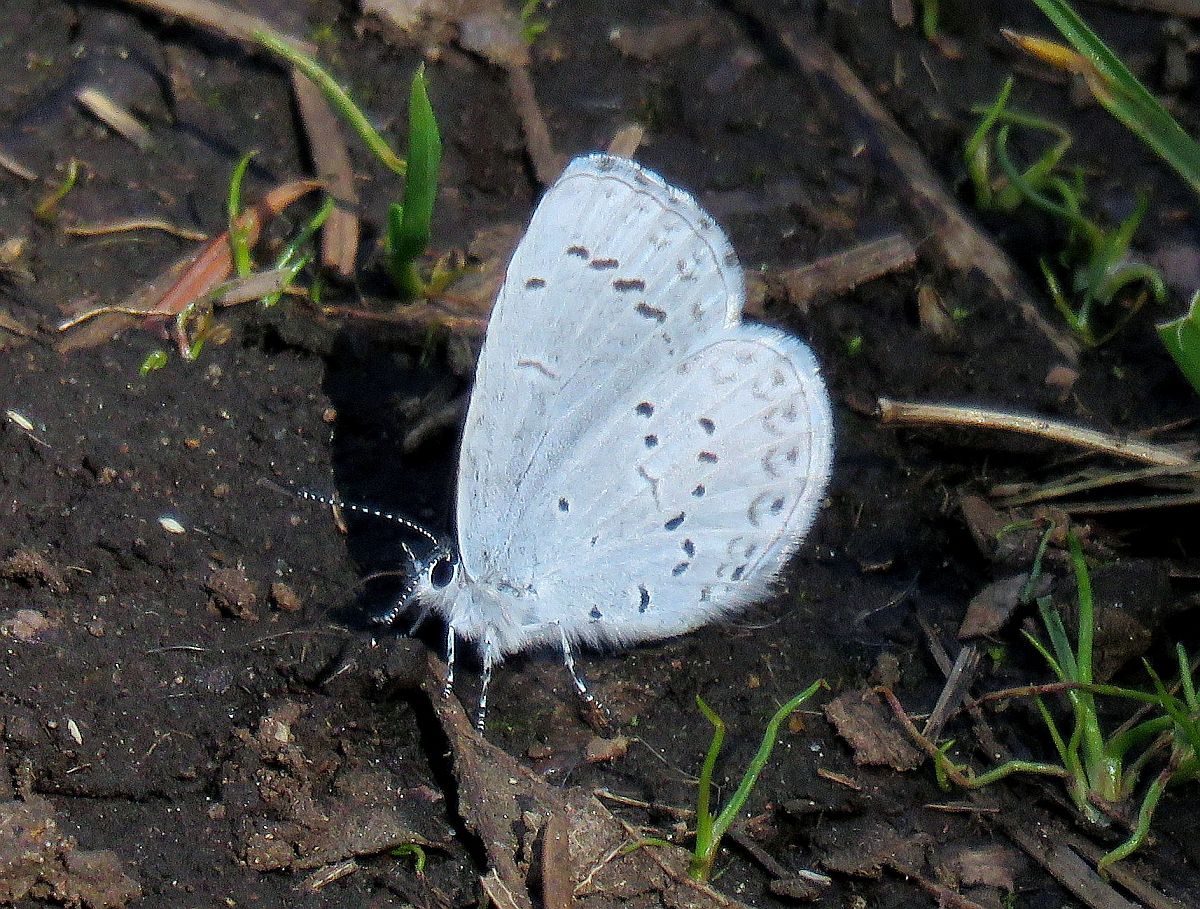 Western Spring Azure Celastrina echo (Lep.: Lycaenidae) Val George
On the day before, May 2, Gerry and Wendy Ansell write: Today was a seven-species-butterfly day for us. At Christmas Hill there were 2 Anise Swallowtails (a first for us this year – photo attached), 2 Propertius Duskywings, 1 Sara Orangetip, and numerous Spring Azures and Cabbage Whites. In our yard on Cordova Ridge there was a Red Admiral and a Western Brown Elfin.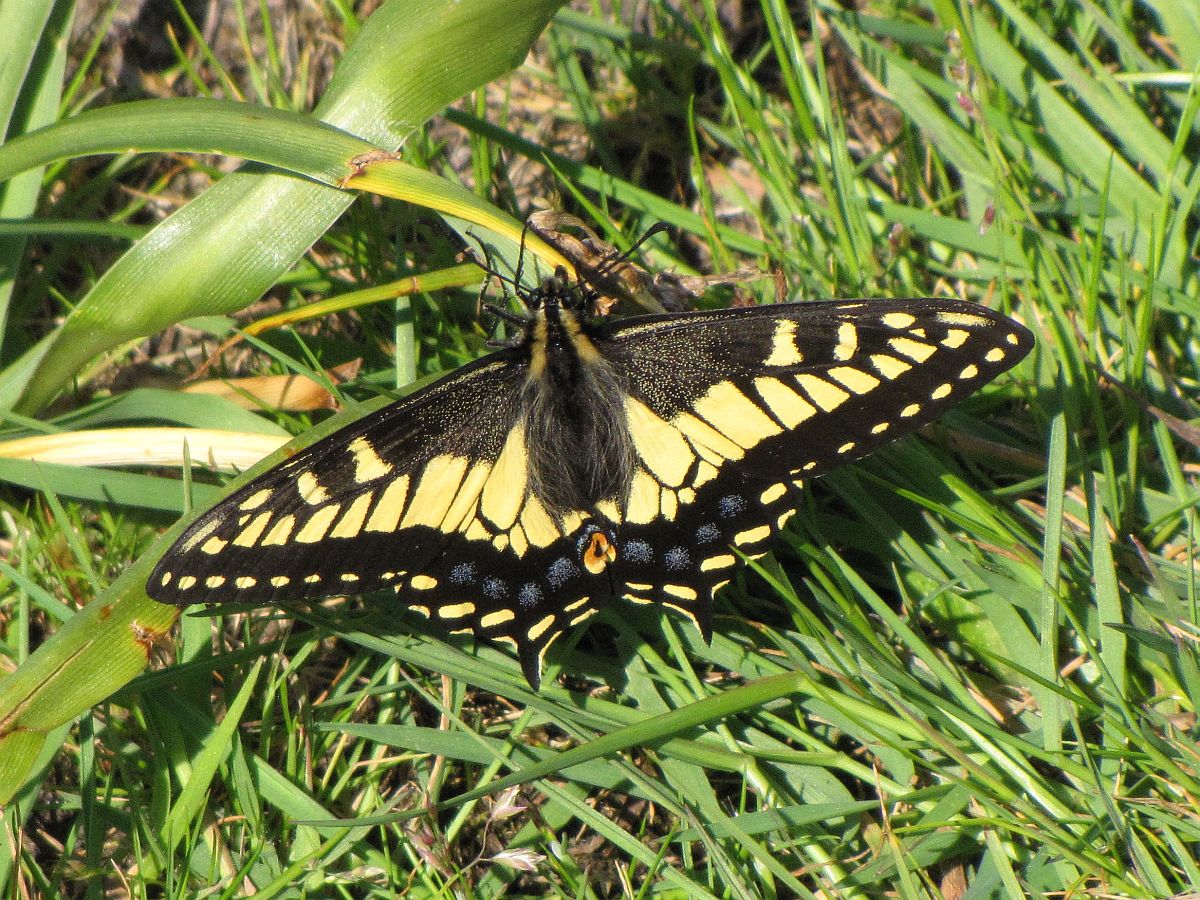 Anise Swallowtail
Papilio zelicaon
(Lep.: Nymphalidae) Wendy Ansell