2015 April 9
Barbara McGrenere writes: About 4:30 yesterday afternoon, Mike and I took a short hike to the south slope of Mount Douglas to look for butterflies. There were eight Sara Orangetips – one stopped briefly on a low growing plant with purple "pea" type flowers. There was also one fast flying Propertius Duskywing and one Western Spring Azure that did not stop flying.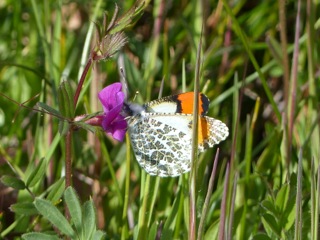 Male Sara Orangetip
Anthocharis sara
(Lep.: Pieridae)
Barbara McGrenere
Jeremy Tatum writes: Today I saw a Sara Orangetip and a Propertius Duskywing on Christmas Hill, and two Satyr Commas along the Lochside trail between Lohbrunner's and Blenkinsop Lake. I saw no butterflies at all on Mount Tolmie, but I did find something else of interest. I came across a small colony of mining bees, probably Adrena sp. There were about 20 burrow entrances on or beside the path, and several bees flying around them. But almost as many as the bees were a number of bombyliid flies (Bee flies), probably Bombylius major, obviously interested in the burrows. I got down on my hands and knees and watched them for a while, pretending to be J. H. Fabre. Typically a fly would hover about a centimetre immediately above a burrow entrance, and then suddenly it would dart down to the entrance of the burrow in the twinkling of an eye, and be off. I looked to see if there were any eggs scattered around the entrance to the burrow, but I couldn't find any. I watched this behaviour over and over again. Although I can't be a hundred percent certain, I believe that when a bee fly darted down in the twinkling of an eye, it probably threw an egg right down into the burrow. It was fascinating to watch. There were also a few very tiny bees with a shiny green thorax, which occasionally entered the burrow of the mining bees, and I was sure that this small bee was up to no good.
Courtney Smith sends a photo of a caterpillar found today in Estevan Village.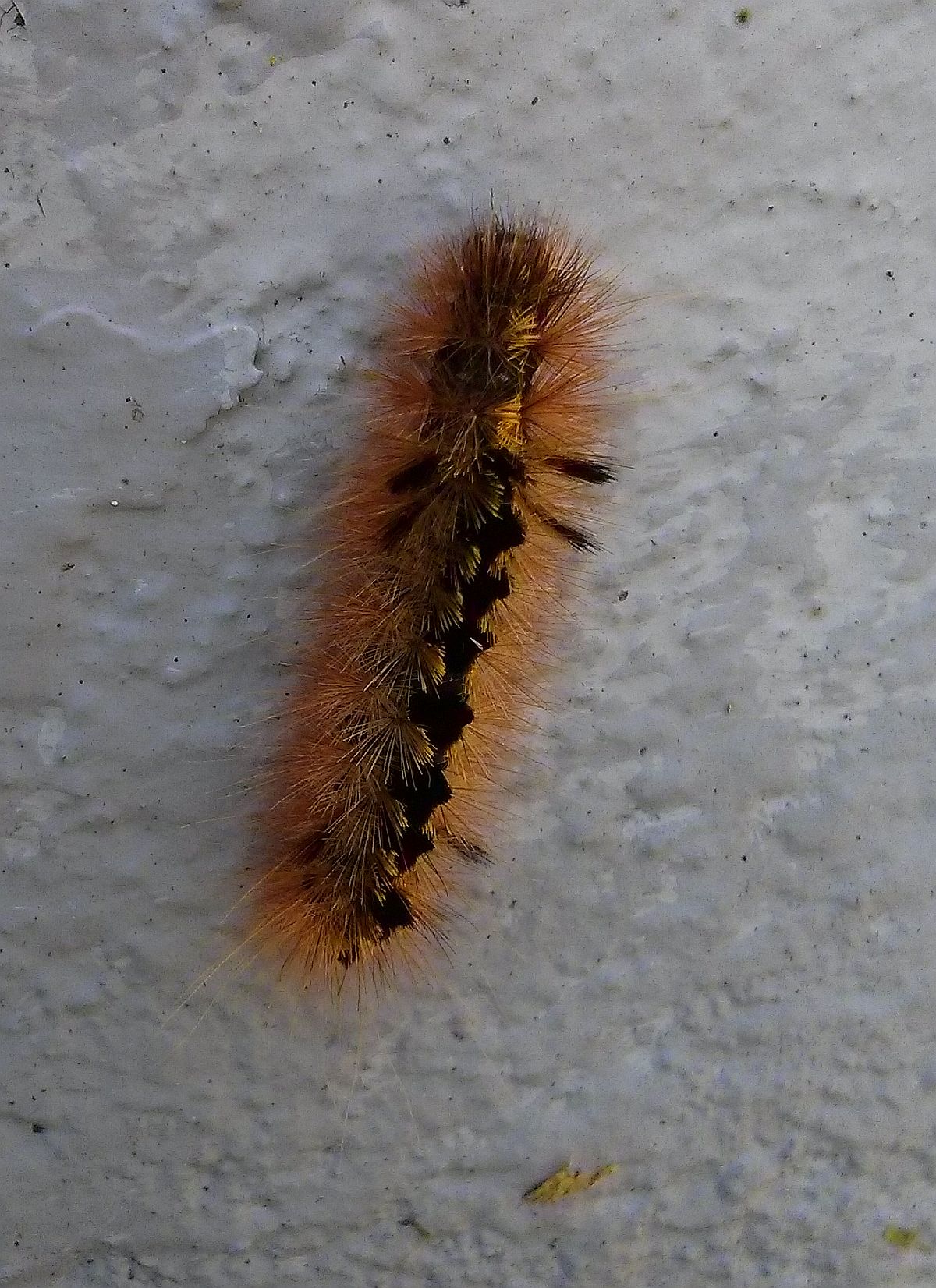 Silver-spotted Tiger Moth Lophocampa argentata
(Lep.: Erebidae – Arctiinae)
Courtney Smith