2015 July 1
Gordon Hart writes: The other day I saw a large orange fly-by while doing a butterfly count, but I think the mystery was solved today when I saw a Robin carrying a large orange and black moth. It is a Sheep Moth, Hemileuca eglanterina.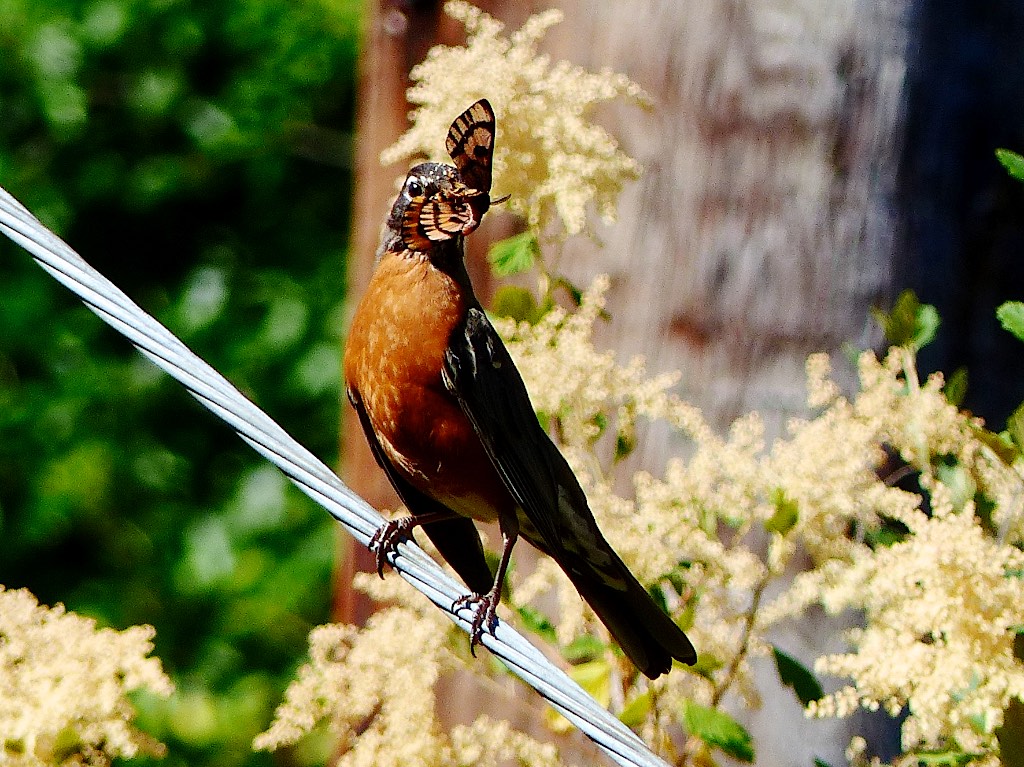 Turdus migratorius
(Pas.: Turdidae) and
Hemileuca eglanterina
(Lep.: Saturniidae)
Gordon Hart
Gordon also writes that he had a Grey Hairstreak in his Highlands garden today, and a Painted Lady there yesterday.
Jeremy Tatum writes: Today, while looking for the Red-eyed Vireo at Blenkinsop Lake, I found a most remarkable geometrid moth, Nematocampa resistaria. It kept very still, because it knew that I didn't have a camera with me. (If I had, it would have moved, as all photographers know.) It had remarkable funny-shaped constrasty patches of dark and light on it, being a nice example of disruptive coloration. These contrasty patches disguise its shape so that Red-eyed Vireos wouldn't recognize it as being a moth. If the adult Nematocampa resistaria is remarkable in its appearance, its caterpillar is even more so. One was shown on this site on June 25, 2011.
Also today I saw a fresh Red Admiral in Uplands Park. All the same I am not sure that my prediction of a good crop of Red Admirals this summer is going to happen – many of the nettle patches in the area have been cut down by municipal crews in the last few days.