2019 May 19 afternoon
   Jeremy Tatum writes:  Here's a nice caterpillar from Snowberry on Mount Tolmie this morning: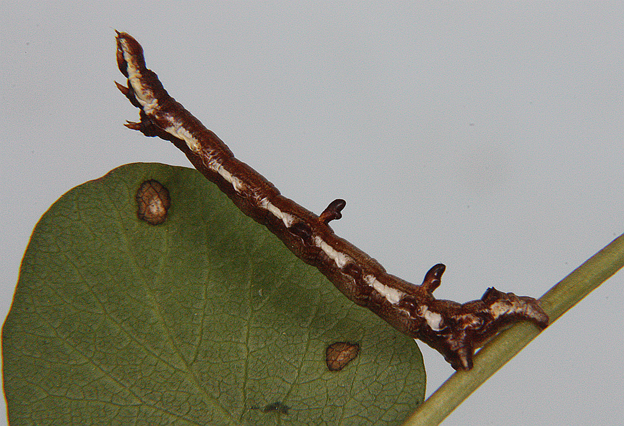 Sicya macularia (Lep.: Geometridae)   Jeremy Tatum
   The Nature House at Goldstream Park is often a good place to find moths.  I was there this afternoon and I saw one each pristine perfect Acronicta impressa and Probole americana, perfectly placed for photography – and of course I didn't have my camera with me.  Elsewhere in the park I saw a Cedar Hairstreak butterfly.
   Val George writes:  This Stink Bug was in my Oak Bay garden today, May 19.  Looks to me like Banasa dimiata. [Jeremy Tatum writes:  Yes, I think so, too.  Just like one that Terry Thormin identified for us on May 10.]
Red-backed Stink Bug Banasa dimiata (Hem.: Pentatomidae)  Val George
   Jeff Gaskin and Ron Flower both report that on Friday May 17, there were at least two (Jeff) or six (Ron) Silvery Blues in their usual location among the lupines at the Colwood exit from Highway 1.  The first photograph below shows a female in the act of ovipositing on a lupine.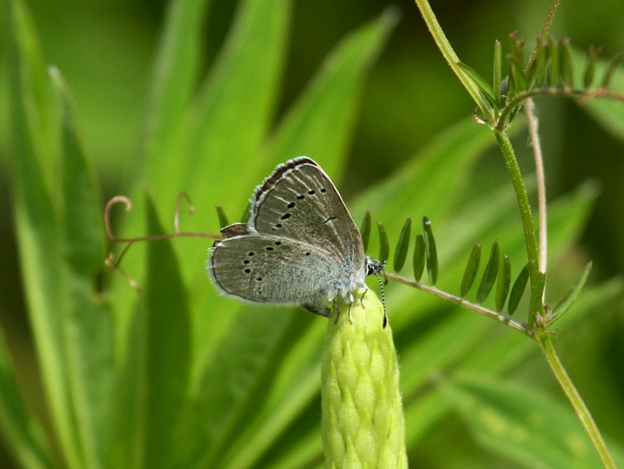 Silvery Blue Glaucopsyche lygdamus (Lep.: Lycaenidae) Ron Flower
Silvery Blue Glaucopsyche lygdamus (Lep.: Lycaenidae) Ron Flower