2019 October 5
Jochen Möhr's moths from Metchosin this morning:
3 Drepanulatrix sp.
1 Pleromelloida cinerea
1 Tetracis jubararia/pallulata
1 Udea profundalis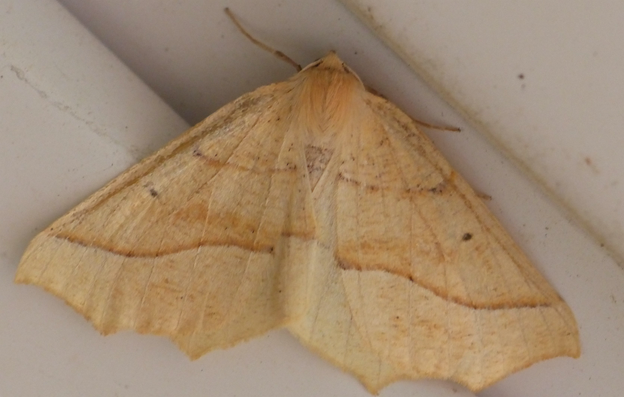 Tetracis jubararia/pallulata (Lep.: Geometridae) Jochen Möhr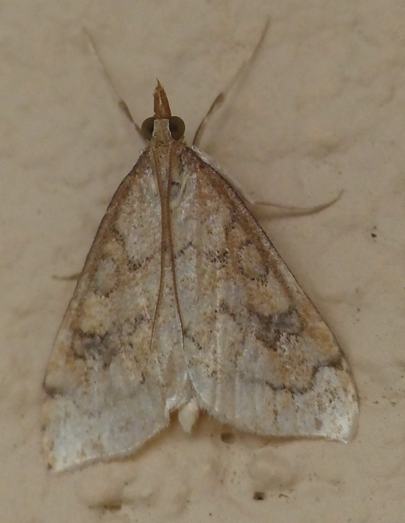 Udea profundalis (Lep.: Crambidae) Jochen Möhr
Jeremy Tatum writes: At this time of year, this site is becoming a little less busy, so I may from time to time take the opportunity of musing on random topics. Today:
What is a chrysalis, and what its its plural?. The first part is fairly easy. A chrysalis is an informal "nontechnical" name used for the pupa of a butterfly. One sometimes hears talk of a moth chrysalis, but it is probably best to restrict its use to the pupa of a butterfly, and not to use it for a moth pupa. The word comes from the Greek
chrysos = gold and it refers to the gold colour of, or gold spots on, the pupae of some nymphalid butterflies.
For the plural we have a choice of three spellings, any one of which might be defended as "correct"!
If we accept that "chrysalis" is a perfectly normal English word, I see nothing at all objectionable to forming its plural in the usual English way, and spelling and pronouncing it chrysalises.
On the other hand if we feel that it has not quite reached the status of an English word, and that it still looks a bit "foreign" (i.e. Greek), then we can use the Greek form of the plural, namely chrysalides. [Analogous words: iris, irides; proboscis, proboscides]
The spelling chrysalids for the plural is often seen, and it is the spelling that I usually use. It is open to the objection that it is not correct in either English or Greek. In its defence, it may be pointed out that the spelling chrysalids for the plural has been used for hundreds of years (Moses Harris used it in the 1760s), and it has become so usual and so established, that it may be taken as the normal or "correct" spelling.
So, in brief, you can use any of these spellings, and stand on solid ground. The one thing that is certain, is that there is no word "chrysalid" in singular or plural!