2019 August 6
The Herald Moth is supposed to have a strong proboscis, which can pierce the skins of ripening fruits.  This one, photographed by Gordon Hart yesterday in his Highlands yard, is demonstrating its skills on a yellow plum.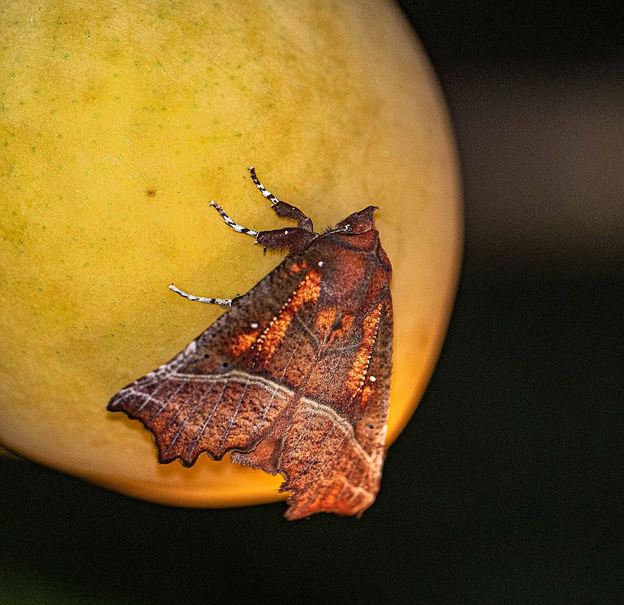 Herald Moth Scoliopteryx libatrix (Lep.: Erebidae – Scoliopteryginae)  Gordon Hart
   Mike Yip writes from Nanoose:  I encountered some extra-curricular activity in my yard this morning with the Common Woodnymphs. They have been flying locally for about three weeks and are easy to find in the Garry Oak meadows around Nanoose Bay. Mylitta Crescents are also in flight again. The Dun Skipper was seen on the logging road near Rhodo Lake two weeks ago, as was the Branded Skipper (Common or Western?) at Whiskey Creek. The moth was photographed at Long Beach and was determined by Libby Avis as Euxoa sp.  (Possibly E. olivia?)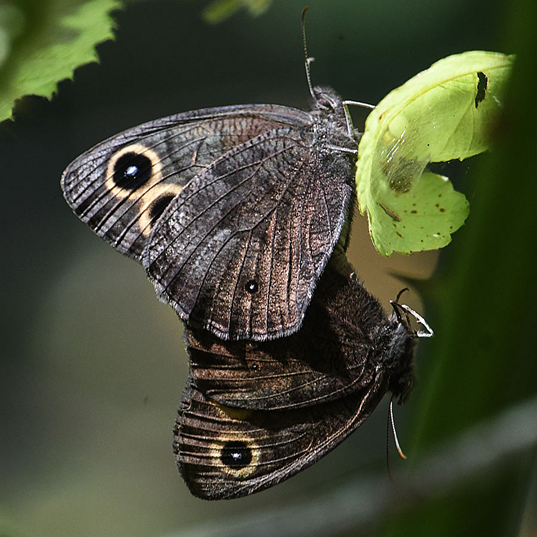 Common Woodnymphs Cercyonis pegala (Lep.: Nymphalidae – Satyrinae)  Mike Yip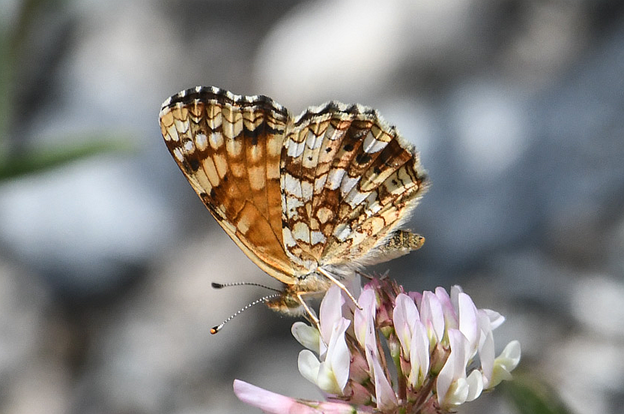 Mylitta Crescent Phyciodes mylitta (Lep.: Nymphalidae)  Mike Yip
Note the slight concavity of the forewing outer margin, characteristic of the species.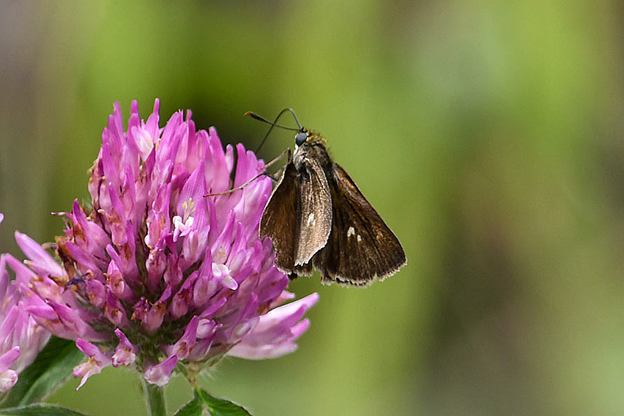 Dun Skipper Euphyes vestris (Lep.: Hesperiidae)  Mike Yip
The white spots indicate that this is a female.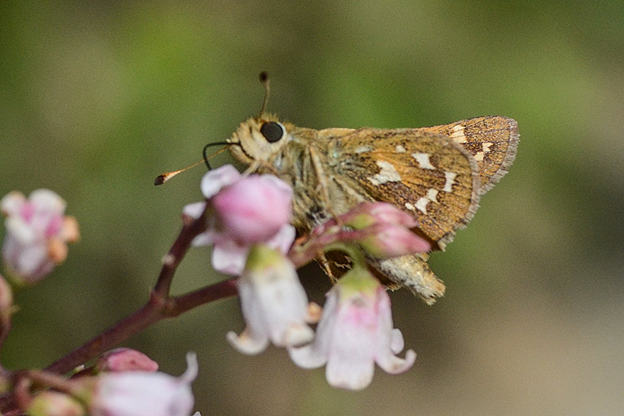 Branded Skipper Hesperia comma (Lep.: Hesperiidae)  Mike Yip
Some "splitters" will divide this skipper into Common Branded Skipper H. comma, and Western Branded Skipper H. colorado.  On this site I treat them as a single species, H. comma.    Jeremy Tatum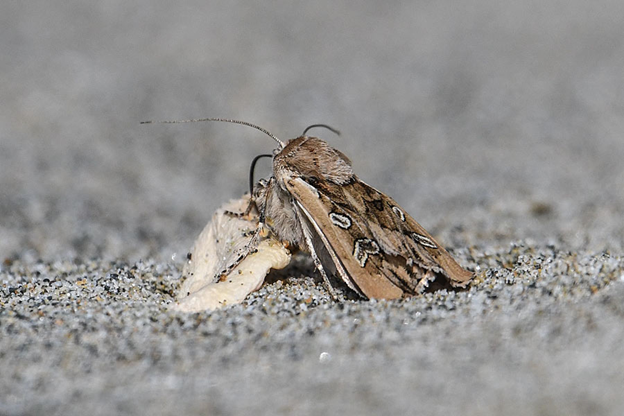 Euxoa sp. (possibly olivia ?) (Lep.: Noctuidae)  Mike Yip
Jochen Möhr's moths in Metchosin this morning:
1 Amorbia cuneanum
1 Callizzia amorata
1 Eulithis xylina
1 Evergestis funalis
2 Lacinipolia strigicollis
2 Lophocampa argentata
1 Abagrotis apposita
1 Panthea virginarius
1 Pyrausta perrubralis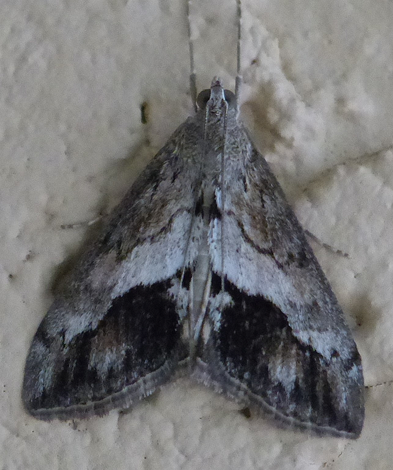 Evergestis funalis (Lep.: Crambidae)  Jochen Möhr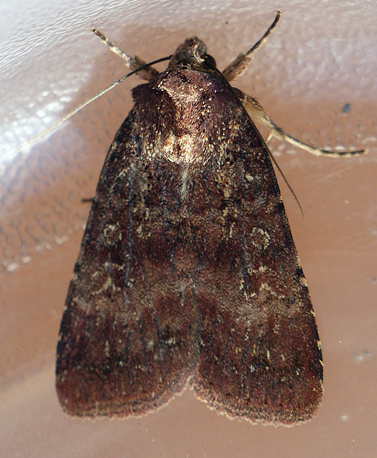 Abagrotis apposita (Lep.: Noctuidae)  Jochen Möhr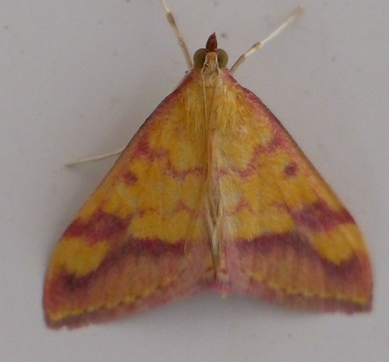 Pyrausta perrubralis (Lep.: Crambidae)  Jochen Möhr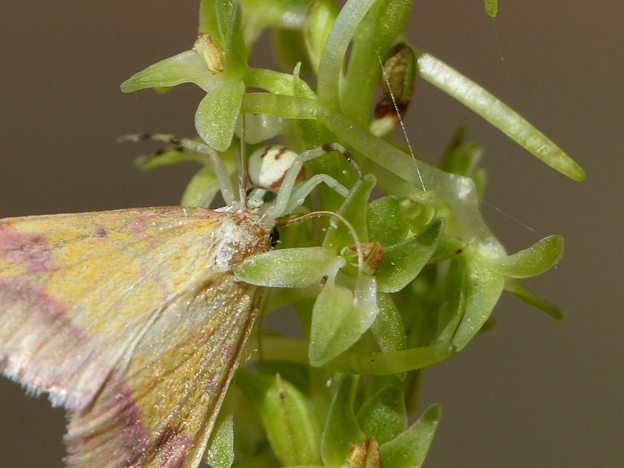 Pyrausta perrubralis (Lep.: Crambidae) and Misumena vatia (Ara.: Thomisidae)  Jochen Möhr
  Kalene Lillico photographed this nice kitten moth outside the door of the Swan Lake Nature House this morning, August 6: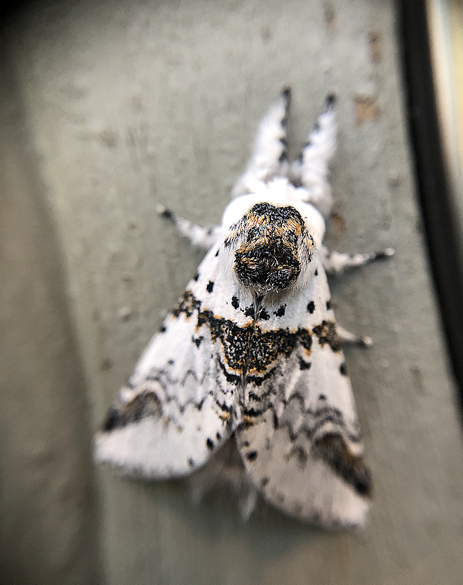 Furcula scolopendrina (Lep.: Notodontidae)  Kalene Lillico