2019 August 5 morning
   Sorry there was no August 4 posting – not enough hours in the day to get everything done!
  In the meantime we have made some good progress in the identification of an unknown fly and an unknown beetle in the August 2 afternoon posting (quod vide).
   August 4, Jochen Möhr writes from Metchosin:  When my dog woke me up at 6 am, there were the proverbial  "oodles" of moths – 5 Lophocampa argentata , 3 Panthea virginarius, 4 Perizoma curvilinea, and many many others including probably two dozen micros of several kinds.  But at that time it was dark and I was still tired.  When I got up at 8, everybody was gone.  Just a Nemoria darwiniata and a Campaea perlata were still there, the latter sometimes fluttering about.  Very unusual, because often they kept sitting there all day.
 Then I observed something, which might provide an explanation: A wasp had grabbed the C. perlata and was butchering it while it was still very much alive.  First it took the wings on one side off, then on the other, then it carried the body off.  There was a lot of struggling and movement, so my attempts at documenting it were not very successful.  But I attach one picture that I have.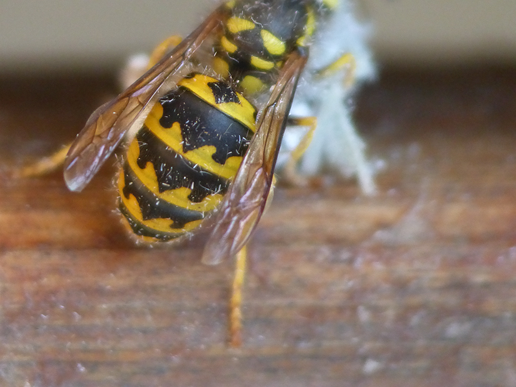 Vespula pensylvanica (Hym.: Vespidae)  Jochen Möhr
   Jeremy Tatum writes:  Jody Wells photographed this fly sucking mud at Tod Creek Flats on August 3.  I didn't take long to identify it because I knew immediately that it was a tabanid.  I am literally quite terrified of tabanids and I felt that fear the instant that I saw the photograph.  After that, because of its distinctive colour, it didn't take long to track it down.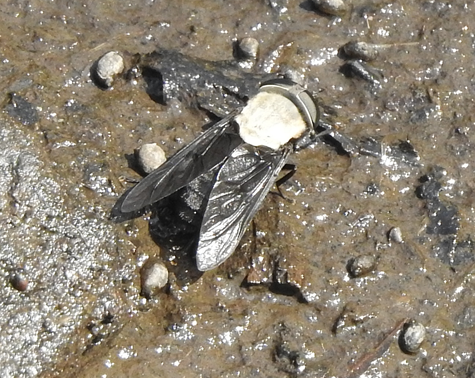 Tabanus punctifer (Dip.: Tabanidae) Jody Wells
Aziza Cooper writes:
On Sunday, August 4, nine people went to Mount Tolmie and Island View Beach for the monthly VNHS Butterfly Walk. We found nine species of butterflies. Two were seen only on Mount Tolmie.
Painted Lady – 4
Vancouver Island Ringlet – 18
Purplish Copper – 6
Lorquin's Admiral – 2
Anise Swallowtail – 1 (at Mount Tolmie)
Western Tiger Swallowtail – 1 (at Mount Tolmie)
Cabbage White – 10
Essex Skipper – 1
Woodland Skipper – 1
Here are some of the butterflies seen: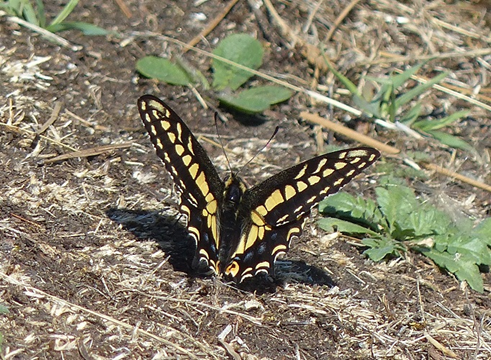 Anise Swallowtail Papilio zelicaon (Lep.: Papilionidae) Aziza Cooper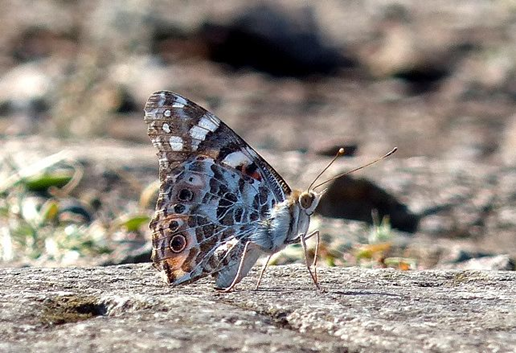 Painted Lady Vanessa cardui Lep.: Nymphalidae)  Aziza Cooper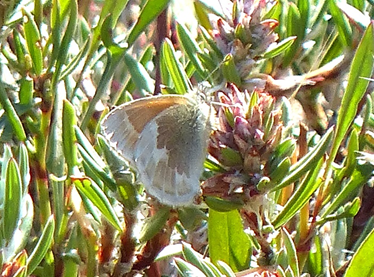 Ringlet Coenonympha tullia (Lep.: Nymphalidae – Satyrinae) Aziza Cooper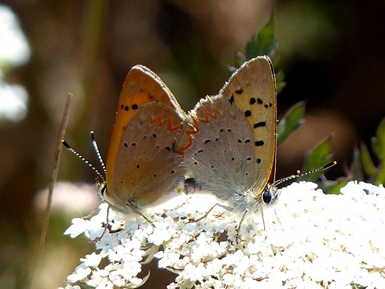 Purplish Coppers Lycaena helloides (Lep.: Lycaenidae)  Aziza Cooper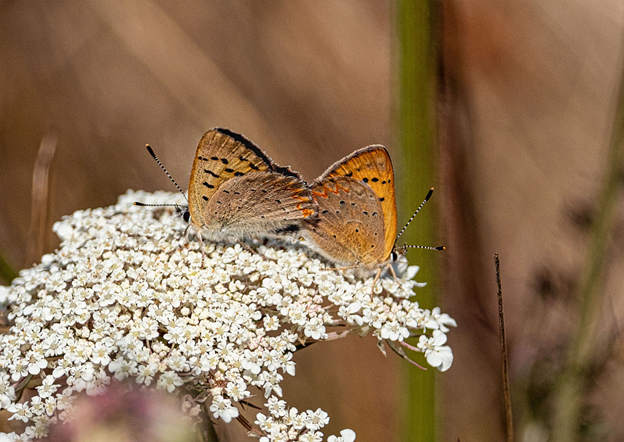 Purplish Coppers Lycaena helloides (Lep.: Lycaenidae)  Gordon Hart
   Also seen during the walk was an interesting Yellow-collared Scape moth of the tribe Lithosiini.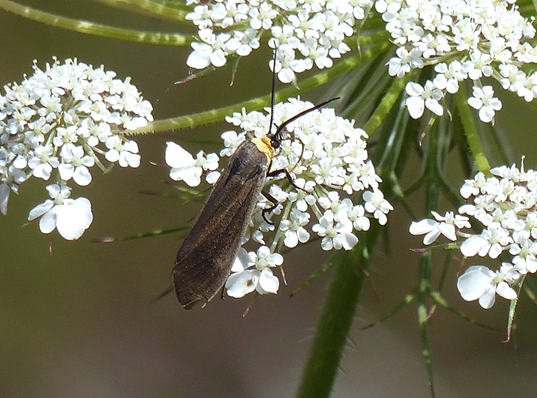 Cisseps fulvicollis (Lep.: Erebidae – Arctiinae – Lithosiini) Aziza Cooper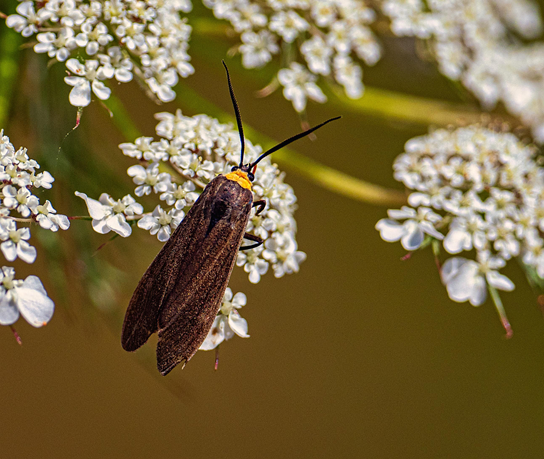 Cisseps fulvicollis (Lep.: Erebidae – Arctiinae – Lithosiini)  Gordon Hart
   And we found this caterpillar of Heliothis phnloxiphaga on Gumweed.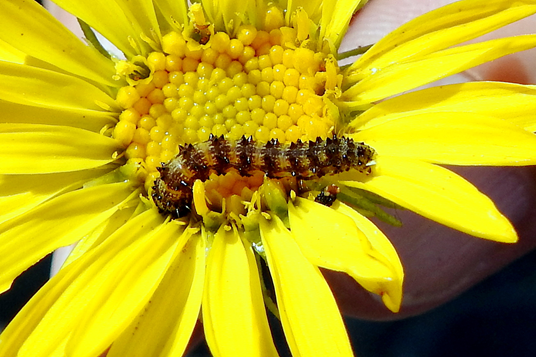 Heliothis phloxiphaga (Lep.: Noctuidae)  Val George
   While on the Butterfly Walk at Island View Beach we missed seeing entomologist Sean McCann, who was also there, and who has sent us a bunch of photographs.  We'll put these up on the next posting – probably this afternoon or evening!
   One more for this posting – an interesting observation from Annie Pang, who writes: I was looking for Pine Whites at Esquimalt Gorge Park on August 4 with my camera
buddy when I had this very banged up Cedar Hairstreak land on the
Goldenrod nearby briefly.  I only had time for a few shots before it
vanished.  I'm very confused about seeing it at all as I'd thought it was an
early spring butterfly.  Does it have two flights here??
Jeremy Tatum writes:  Well, does it?   It certainly seemed to have two flights in 2015.  See the 2015 Butterfly Report, posted on 2016 January 26 (currently on page 192, though this, of course, increases with time).  I haven't looked up Reports for other years (task for someone?), though I don't think there are many other August sightings other than 2015. Is Annie's "banged-up" butterfly a second generation, or a survivor from a spring generation?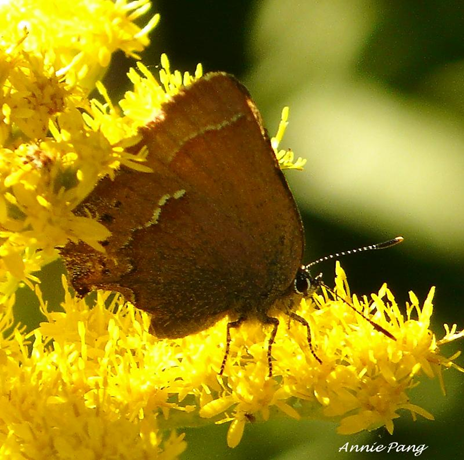 Cedar Hairstreak Mitoura rosneri (Lep.: Lycaenidae)  Annie Pang