2019 July 11
Jeremy Tatum shows a photograph of a Red Admiral chrysalis, from the caterpillar shown on July 8: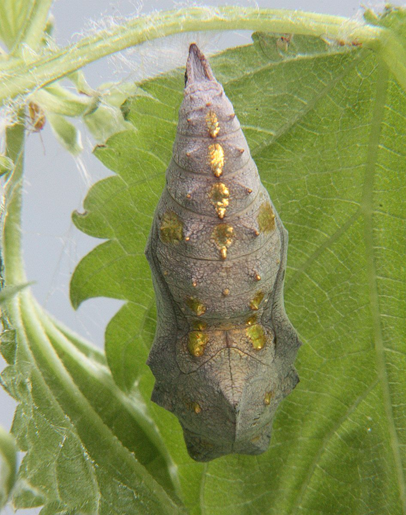 Red Admiral Vanessa atalanta (Lep.: Nymphalidae) Jeremy Tatum
Here is a Satyr Comma caterpillar (one of the two shown on July 7) preparing to pupate on a wooden stick. I bought a dozen of these wooden sticks at a hobbyists' store. They asked me what I wanted them for – what was I going to build with them? How could I possibly tell them that I was buying them for caterpillars to pupate upon?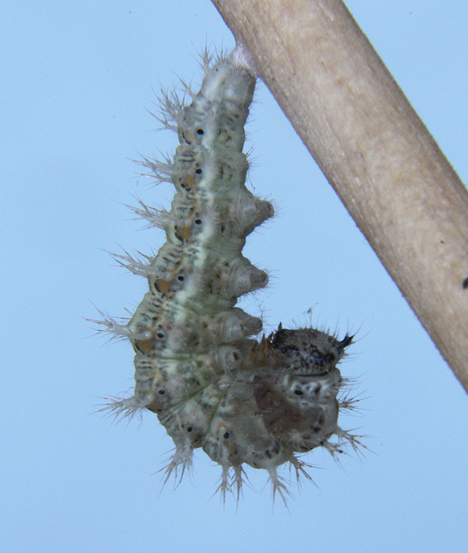 Satyr Comma Polygonia satyrus (Lep.: Nymphalidae) Jeremy Tatum
Cheryl Hoyle shows a moth found in her View Royal garden, July 11. Amazingly, since I posted a photo of one myself on July 6, I didn't recognize this huge moth! Libby Avis recognized it at once for me as Catocala aholibah.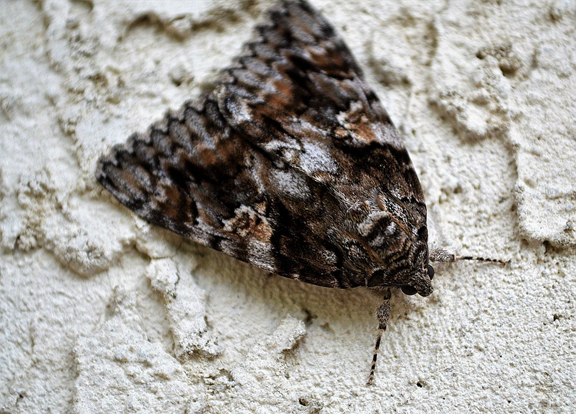 Catocala aholibah (Lep.: Erebidae – Erebinae) Cheryl Hoyle
We have an identification for another of our recently unidentified pictures. Jeremy Gatten has identified Rebecca Reader-Lee's July 8 slug as a Scarletback Taildropper Prophysaon vanattae. See July 8 posting.
Jeremy Gatten also sends two spectacular photographs of a Bedstraw Hawk Moth nectaring on Yellow Sand-verbena at Island View Beach on July 11.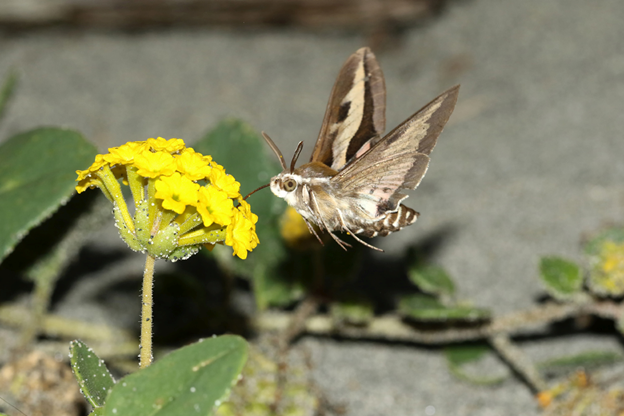 Bedstraw Hawk Moth Hyles gallii (Lep.: Sphingidae) Jeremy Gatten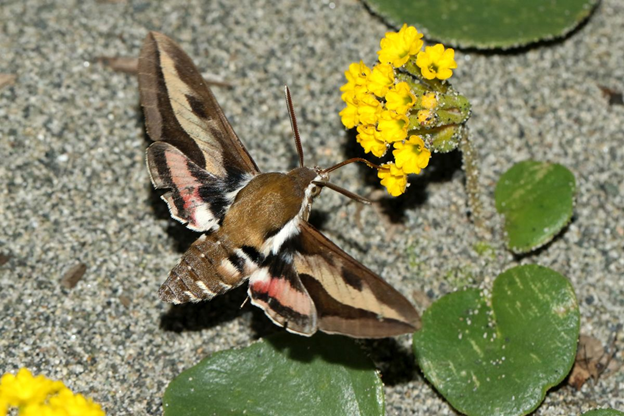 Bedstraw Hawk Moth Hyles gallii (Lep.: Sphingidae) Jeremy Gatten
While there, at Saanichton (Cordova) Spit (TIXEN), Jeremy Gatten also saw both Edwards' Beach Moth Anarta edwardsii and Sand-verbena Moth Copablepharon fuscum .
Jochen Möhr's moths in Metchosin this morning:
1 Biston betularia
1 Cabera erythemaria
1 Drepana arcuata
3 Eulithis xylina
1 Habrosyne scripta
3 Hesperumia latipennis
1 Hesperumia sulphuraria
3 Homorthodes hanhami
1 Lacinipolia strigicollis
1 Leucoma salicis
8 Nadata gibbosa
1 Palthis angulalis
1 Perizoma costiguttata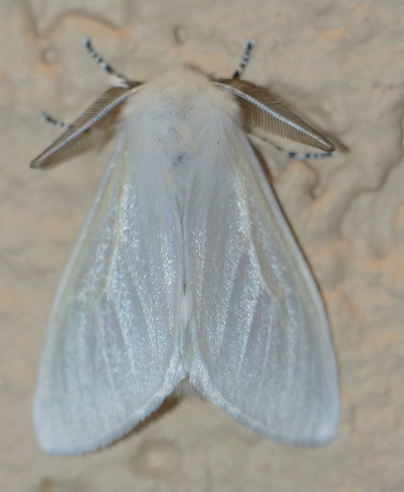 Leucoma salicis (Lep.: Erebidae – Lymantriinae) Jochen Möhr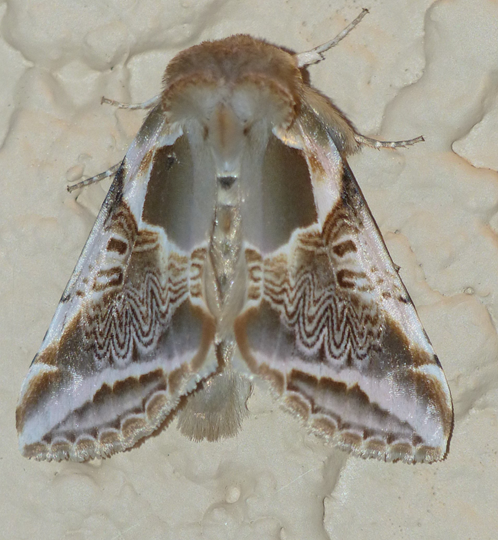 Habrosyne scripta (Lep.: Drepanidae – Thysanurinae) Jochen Möhr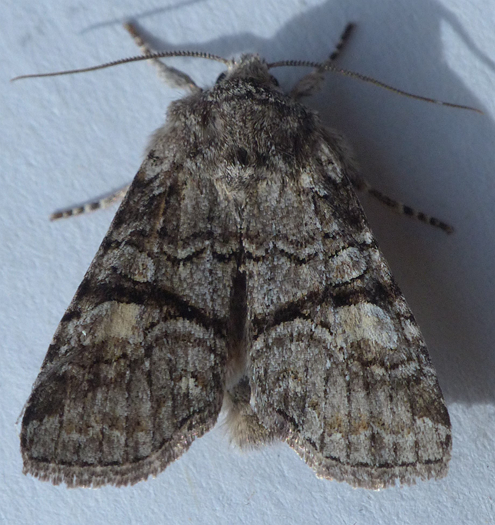 Brachylomia rectifascia (Lep.: Noctuidae) Jochen Möhr
Palthis angulalis (Lep.: Erebidae – Herminiinae) Jochen Möhr
Jochen Möhr writes: Something diifferent for a change: In the Ocean Spray flower fronds, I discovered gazillions of tiny beetles, hardly as large as the Ocean Spray Flower petals. Jeremy Tatum and Libby Avis say they have seen lots of these, too, and we all wonder what they are. How can we possibly identify tiny beetles like these? Easy! – just ask Scott Gilmore, who tells us that they are Family Scraptiidae, genus Anaspis.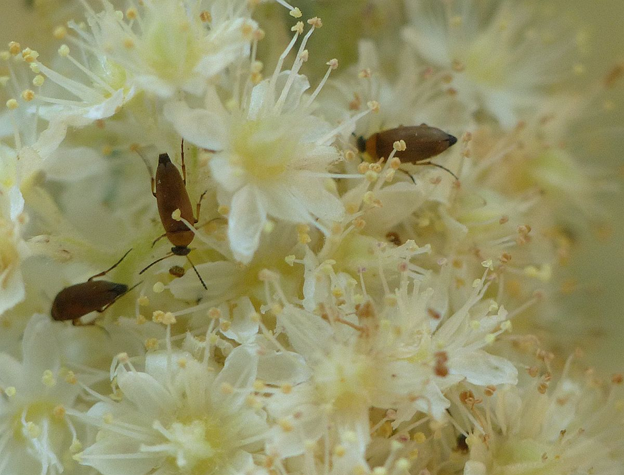 Anaspis sp. (Col.: Scraptiidae) Jochen Möhr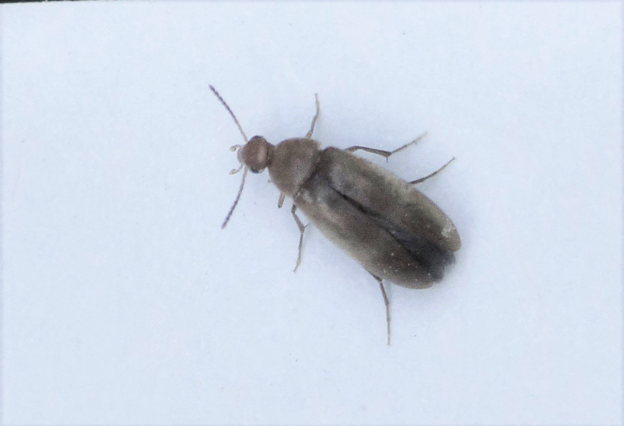 Anaspis sp. (Col.: Scraptiidae) Jochen Möhr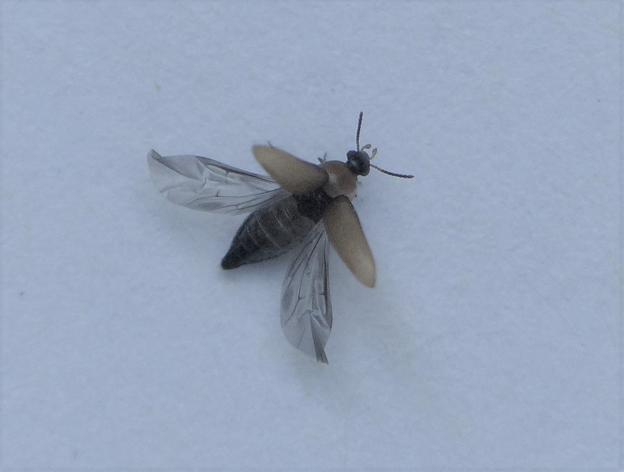 Anaspis sp. (Col.: Scraptiidae) Jochen Möhr