2019 July 4
Jeremy Tatum writes: If you go to the Cairn Road entrance to Highrock Park (Esquimalt), you will see a large poster encouraging you to visit the park in the Spring to see the butterflies there. There are photographs of three butterflies on the poster: Propertius Duskywing, Anise Swallowtail, and Western Pine Elfin. One would expect the Propertius Duskywing, of course, though you'd need a bit of luck to see an Anise Swallowtail. But a Western Pine Elfin? Are there really some there, or is it a mistake? Who knows? The only way to find out is to visit the park in the Spring and see what you can find.
At the nature house in Goldstream Park today I saw an Idaea dimidiata and an out-of-camera-reach Clemensia albata. At the nature house at Swan Lake today I saw an Aseptis binotata and out-of-camera-reach Eulithis xylina and Hemithea aestivaria.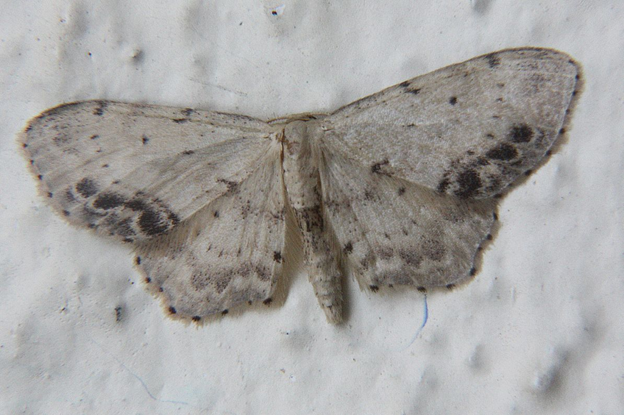 Idaea dimidiata (Lep.: Geometridae) Jeremy Tatum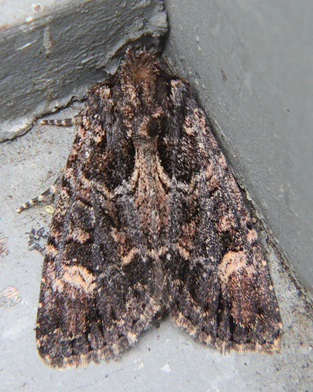 Aseptis binotata Lep.: Noctuidae) Jeremy Tatum
Val George writes: Yesterday, July 3, I did a quick drive up the Nanaimo River Road to check out the dogbane patches (49.078922/-124.051886). I saw one each of only three butterfly species: Grey Hairstreak, Western Tiger Swallowtail, Mylitta Crescent.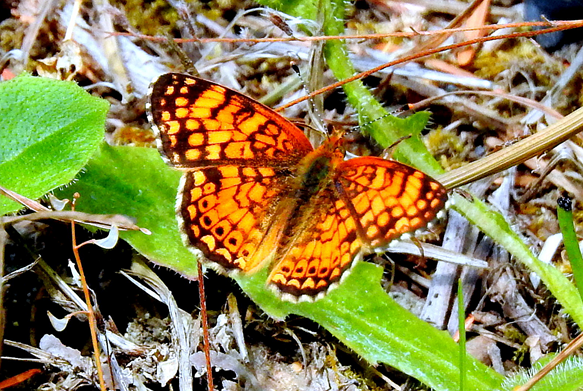 Male Mylitta Crescent Phyciodes mylitta (Lep.: Nymphalidae) Val George
Scott Gilmore writes from Lantzville: I found these newly hatched hemiptera on my Ceanothus plant.
Jeremy Tatum comments: They look very like the similar bugs that Ann Tiplady found recently – see the June 29 Invertebrate Alert. I believe they are pentatomids. What remarkably neat caps on the eggs!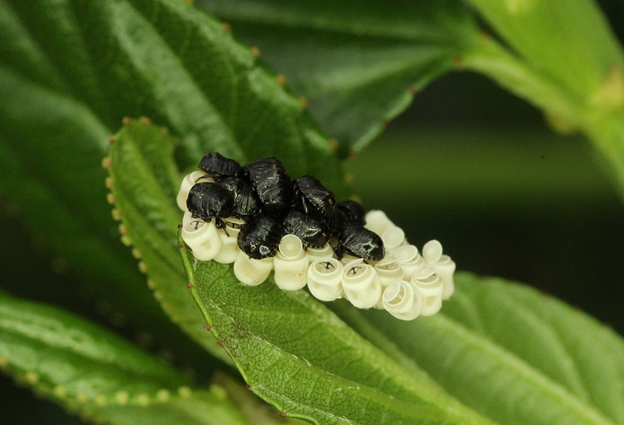 Probably pentatomid bugs (Hem.: Pentatomidae) Scott Gilmore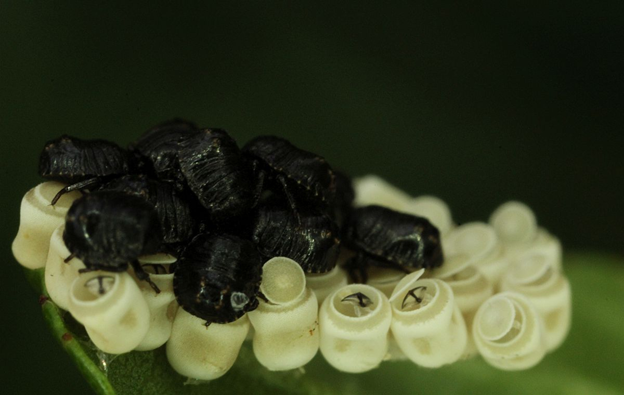 Probably pentatomid bugs (Hem.: Pentatomidae) Scott Gilmore
Bryan Gates writes: My Red Alders continue to produce interesting beasts. This shiny black beetle, approximately 6 mm long (excluding the antennae), was superabundant on the red alders here at Saratoga Beach during the last week of May 2019. The adults were eating roundish holes in the alder leaves and copulation was observed. Now, on July 3, only one adult could be found, but this black larva, also about 6 to 7 mm long, is very common on the leaves and is eating just the green tissue on the top surface of the leaves. I assume that one has produced the other.
Jeremy Tatum writes: It is a leaf beetle of the Family Chrysomelidae – a Family so large that many coleopterists despair! But Scott Gilmore suggests: I would guess from the genus Altica. [That's probably rather better than a guess, from Scott!]
Probably Altica sp. (Col.: Chrysomelidae) Bryan Gates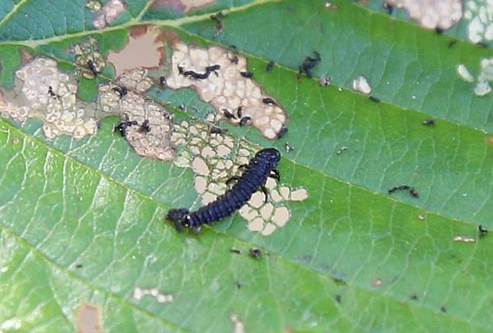 Probably Altica sp. (Col.: Chrysomelidae) Bryan Gates
More tomorrow…