2019 June 11 evening
Jeremy Tatum writes: I went to the small field just south of the Tsartlip Cemetary on West Saanich Road halfway between Stelly's Cross Road and Mount Newton Cross Road, from where Tim Zurowski reported large numbers of Field Crescents this morning. It's a tiny field smothered with huge numbers of Ox-eye Daisies. Although I saw no notices, it is presumably private property belonging to the Tsartlip First Nation, and in any case it wouldn't be a good idea to tramp all over the field. I stood just at the entrance and I could see lots of the butterflies at close quarters. I didn't attempt to count them, but I'd have no difficulty at all in believing 100 or so.
Aziza Cooper drew my attention to a huge collection of superb photographs of local moths obtained by Tim Zurowski at https://timzurowski.smugmug.com/Galleries/Insects/Moths/ This will be a wonderful reference for us. I had no idea of their exisence before.
This evening, I found the curious structure below on Reed Canary Grass at Rithet's Bog. As you can see, it has a caterpillar inside! I am not sure of its identity, but for the moment, and until I get an adult moth from it, I'm labelling as probably Psyche casta. If it turns out to be a female, she'll be wingless and she won't emerge from her house, so I'll never know for sure!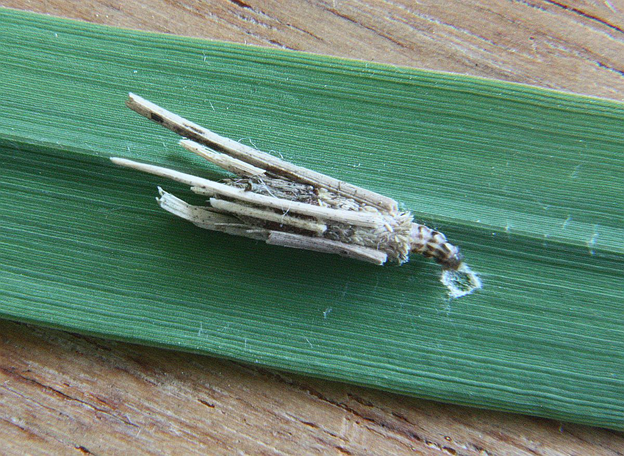 Probably Psyche casta (Lep.: Psychidae) Jeremy Tatum
Aziza Cooper writes: Today, June 11, at Royal Roads University I found my first-of-year Essex Skipper. There were 3 Pale and 4 Western Tiger Swallowtails, two Cabbage Whites and one Lorquin's Admiral.
Jeremy Tatum comments: This is just the sort of Essex Skipper photograph we want. It shows that the underside of the tip of the antenna is black, thus distinguishing it from the Small Skipper (not yet recorded, I believe, from North America), for which the underside of the tip of the antenna is orange.
Essex Skipper Thymelicus lineola (Lep.: Hesperiidae) Aziza Cooper
More tomorrow morning…