2023 November 10
   Jochen Möhr writes from Metchosin:  Finally, an Operophtera – but which one?
Jeremy Tatum writes:  I'd call this O. brumata.  I had two at my Saanich apartment this morning – the first I've seen here this season.   Moth-ers might take their cameras to the Goldstream Park Nature House, where sometimes O. occidentalis is the most numerous of the Winter Moths.  There is even a chance there of finding the rarer one, O. danbyi.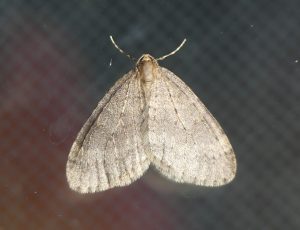 European Winter Moth Operophtera brumata  (Lep.: Geometridae)  Jochen Möhr
While thinking of yesterday's photograph of a butterfly drinking tears from the eyes of a caiman, I seem to remember reading somewhere that one of our erebid moths sometimes imbibes fluids from the eyes of cattle.  I have forgotten which moth – it may possibly have been the Herald Moth Scoliopteryx libatrix.  If any viewer has information on this, please do let us know.