2023 September 13
    Marie O'Shaughnessy writes:  I was at Martindale,  McIntyre Reservoir, Sept 11th after 4 pm, and saw 2 Variegated Meadowhawks
2 Blue Dashers
1 Cardinal Meadowhawk
1 Blue Dasher
2 Paddletailed Darners
Also 2 Paddletailed Darners along Lamont Road, Martindale .
I saw 3 Cabbage Whites at this location and a further four along Martindale Road.
Marie comments that it has been a good season for Variegated Meadowhawks.  She sends this photograph of one from McIntyre reservoir.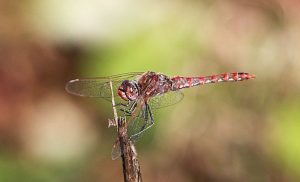 Variegated Meadowhawk Sympetrum corruptum  (Odo.: Libellulidae)  Marie O'Shaughnessy
At Outerbridge Park she saw just two Cabbage Whites and one Paddle-tailed Darner.
She sends a photograph of an Orb-weaver Spider from there, with a wasp as prey.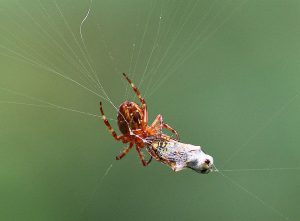 Araneus diadematus (Ara.: Araneidae)  Marie O'Shaughnessy