2022 December 7
CHANGE OF ADDRESS:   Contributions (photographs or observations) to Invertebrate Alert should now be sent to
tatumjb352@gmail.com   and no longer to  jtatum@uvic.ca   
   Ian Cooper writes:  Here are some of this morning's photos from Colquitz River Park in Saanich and the Galloping Goose Trail in View Royal. Not a great haul on this occasion. This was partly due to the scarcity of visible critter activity I saw, which was odd, given that it was relatively mild out. Perhaps the volume of fresh fallen leaves on the ground in Colquitz River Park was obscuring some, if not many, critters from view.  Elsewhere, recent 'brush clearing' apparent along the Galloping Goose trail in View Royal was another factor. Much of the previous lush green ground cover and smaller bushes along the sides of the trail had been razed to stubble near the 9 km marker, which is my normal go-to destination to scout for critters to photograph. It was distressing, frankly. I go to this site often and have an affinity for the creatures in that stretch of habitat but, for example, I couldn't locate any of the Pimoa altioculata  spiders I'd seen and photographed in the leaf litter previously, such was the disturbance.
   Jeremy Tatum writes:  We hope it is understood that while we cannot absolutely agree on 100 percent accurate identifications of all creatures shown on this Invertebrate Alert Site, we believe that the great majority – including those on today's posting – are correct with a high degree of probability.  We always welcome help from knowledgeable viewers – especially if you think we may have occasionally, like Homer, nodded.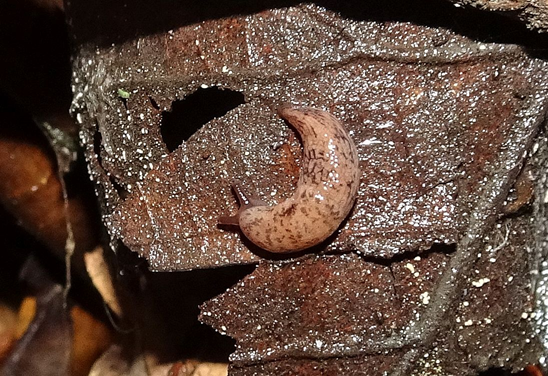 Grey Field Slug  Deroceras reticulatum (Pul.:
Agriolimacidae) Ian Cooper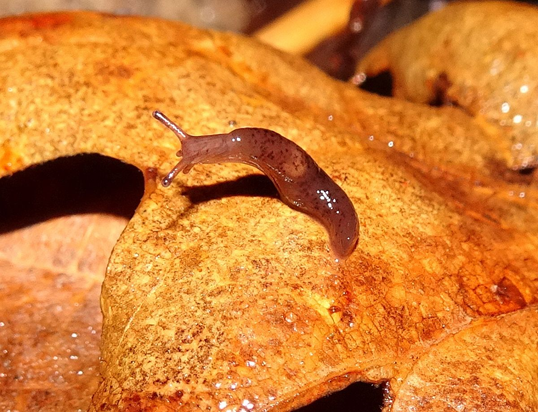 Brown field slug  Deroceras panormitanum (Pul.:
Agriolimacidae) Ian Cooper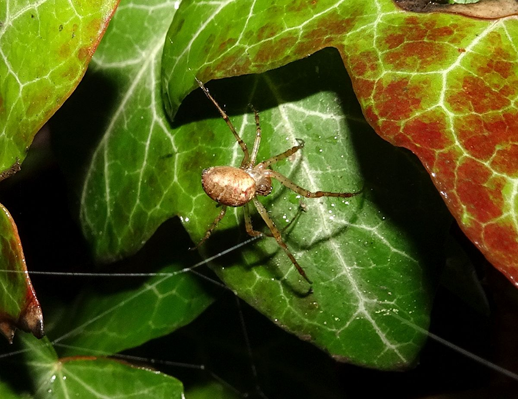 Long-jawed Orb Weaver Metellina sp. (Ara.: Tetragnathidae) Ian Cooper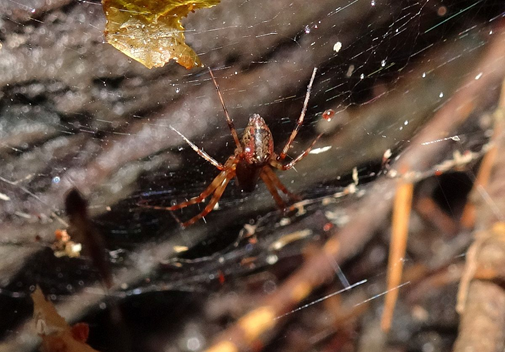 Unidentified linyphiid spider (Ara.: Linyphiidae)  Ian Cooper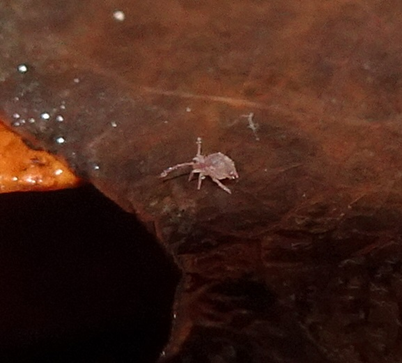 Globular springtail, probably Ptenothrix sp.
(Collembola – Symphypleona –Dicyrtomenidae)
Ian Cooper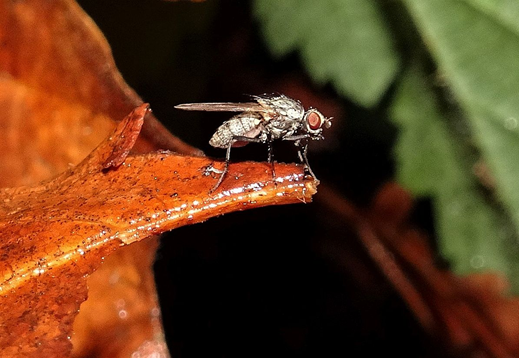 Probably root-maggot fly, female (Dip.: Anthomyiidae)  Ian Cooper