2021 February 18
   Ian Cooper sends an unusual photograph of a harvestman on snow, Colquitz River Park, February 17.   Dr Philip Bragg writes:  I have not seen a harvestman on snow before. I notice that it is keeping its body well away from the snow on its long legs. The photo is not clear enough for a positive identification but I think that it is Platybunus triangularis.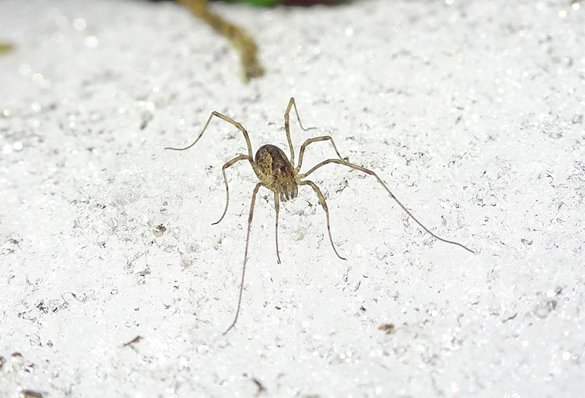 Harvestman, probably Platybunus triangularis (Opiliones: Phalangiidae)  Ian Cooper
  Rosemary Jorna, sends photographs of spider engaged in Anglo-Saxon attitudes in her Kemp Lake basement, February 17.   Dr Robb Bennett writes:
Hmm, not your usual indoor trashy theridiid. It's a linyphiine linyphiid – always have trouble eyeballing them based on colour patterns: probably either a Neriene or Microlinyphia but I really don't know.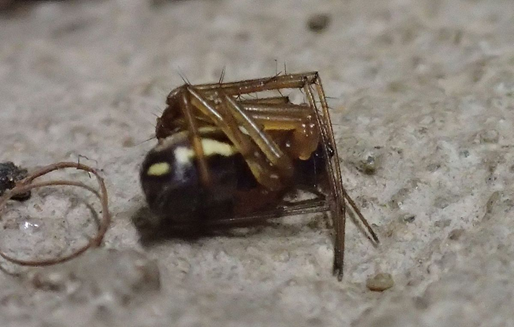 Probably Neriene or Microlinyphia (Ara.: Linyphiidae – Linyphiinae)  Rosemary Jorna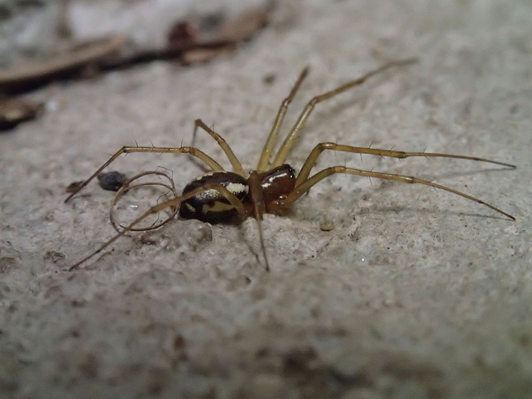 Probably Neriene or Microlinyphia (Ara.: Linyphiidae – Linyphiinae)  Rosemary Jorna