2020 July 30
More of Gordon Hart's moths and other insects from Highlands yesterday. Thanks to Libby Avis for the moth identifications.
The moth below is Evergestis funalis. Don't know what the other little insect is – a fly or a bug – not sure.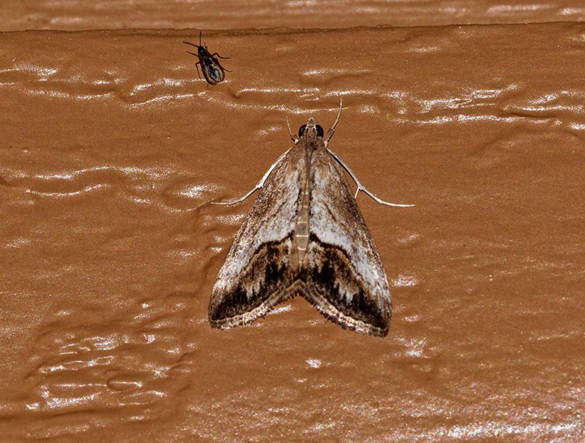 Evergestis funalis (probably subsp. insularis) (Lep.: Crambidae) Gordon Hart
The small insect in the photograph below might be the same species as the fly/bug in the photograph
above; this time it looks more like a fly and not a bug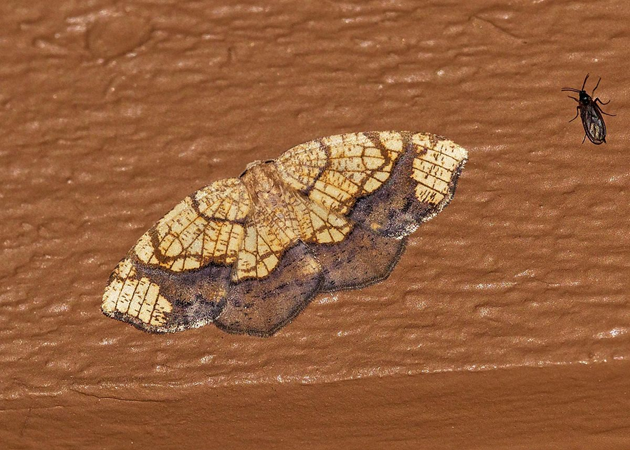 Nematocampa resistaria (Lep.: Geometridae) Gordon Hart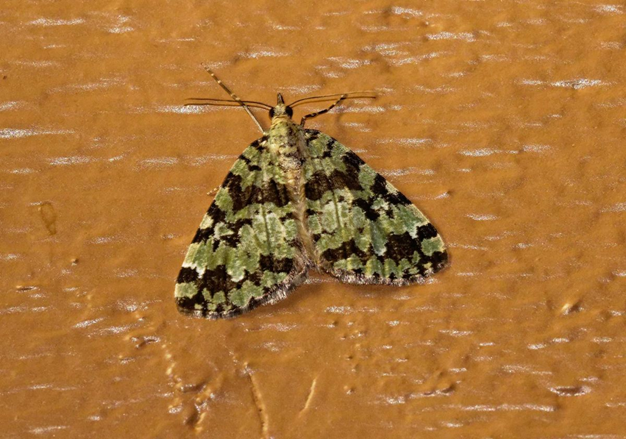 Hydriomena speciosata (Lep.: Geometridae) Gordon Hart
The big bipectinate antennae on the moth below mark it as a male. It is hard to believe that it is the same species, Neoalcis californiaria, as the moth shown on July 12. Today's example is a more usual colour here than the July 12 one.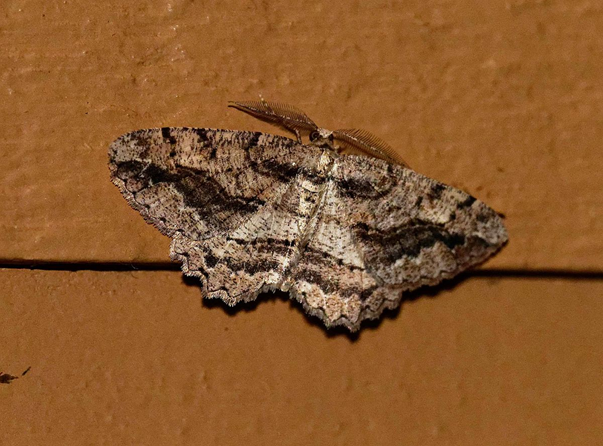 Neoalcis californiaria (Lep.: Geometridae) Gordon Hart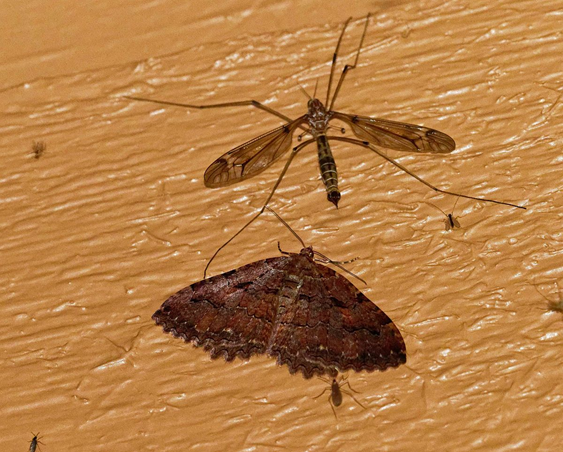 Crane fly (Dip.: Tipulidae) and Tissue Moth Triphosa haesitata (Lep. Geometridae) Gordon Hart
We shall not attempt to identify the three small flies in the photograph!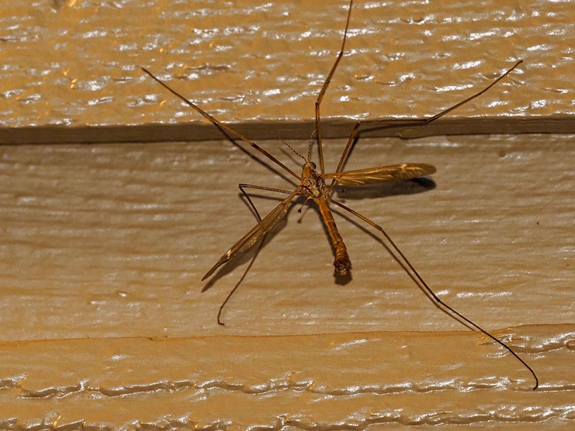 Crane Fly (Dip.: Tipulidae) Gordon Hart
The central insect in the photograph below is a green lacewing. We hesitate to go below Family level.
We don't attempt to identify the other insects below Family or even Order! From left to right, the small insects are: Non-biting midge (Dip.: Chironomidae); under the left antenna of the lacewing, possibly a small bug, Hemiptera); a fly; a beetle. Scott Gilmore had a go at the beetle! He suggests Anaspis (Col.; Scraptiidae).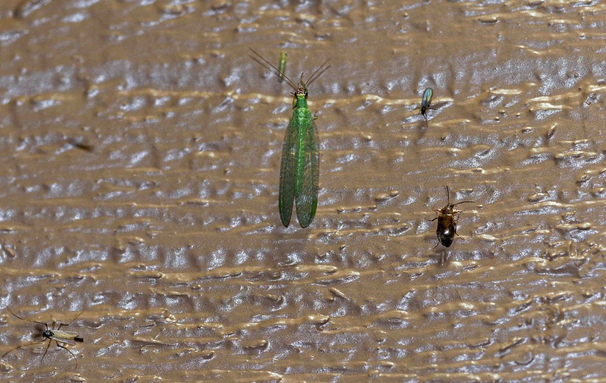 Lacewing (Neu.: Chrysopidae) Gordon Hart
Val George writes: On July 28, there were several moths on the walls of the nature house at Swan Lake. This is one I don't recall seeing before so I took this photo. Is it Schizura unicornis?
Libby Avis replies: Yes – Schizura unicornis. Have seen several here (Port Alberni) recently too.
And Jeremy Tatum adds: Compare with two similar species shown on July 26.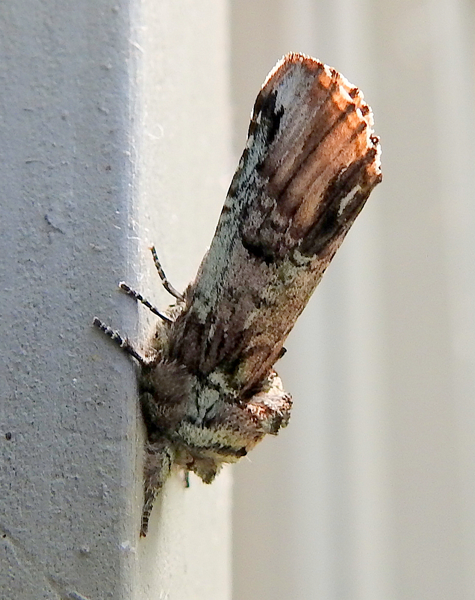 Schizura unicornis (Lep.: Notodontidae) Val George
Four photographs from Jody Wells – the first two from Martindale Valley July 28, the remaining two from Swan Lake July 27. Thanks to Dr Rob Cannings for identifying the dragonflies.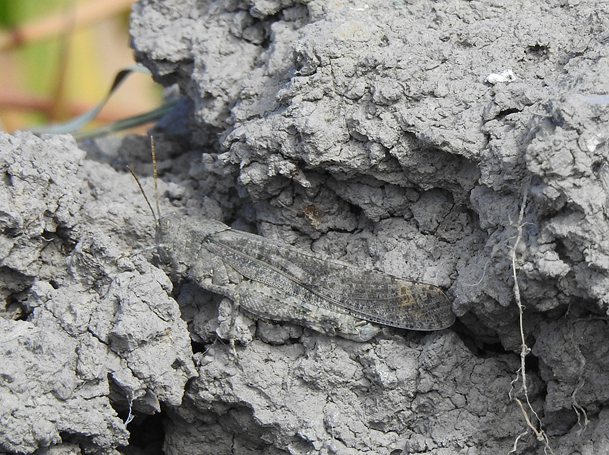 Carolina Grasshopper Dissosteira carolina (Orth.: Acrididae) Jody Wells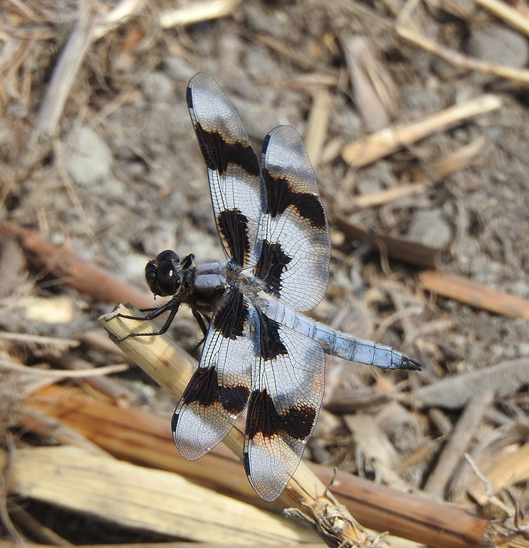 Male Eight-spotted Skimmer Libellula forensis (Odo.: Libellulidae) Jody Wells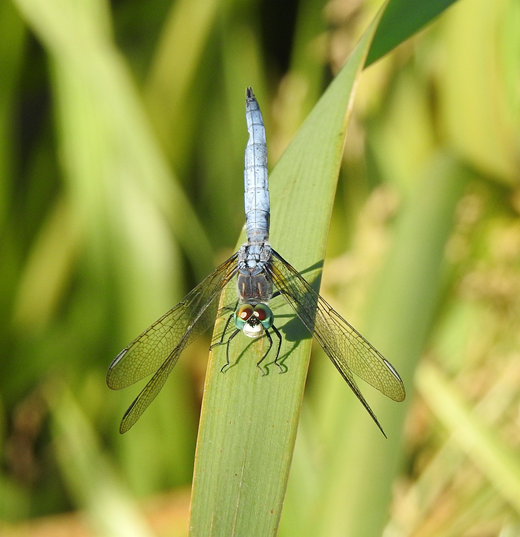 Male Blue Dasher Pachydiplax longipennis (Odo.: Libellulidae) Jody Wells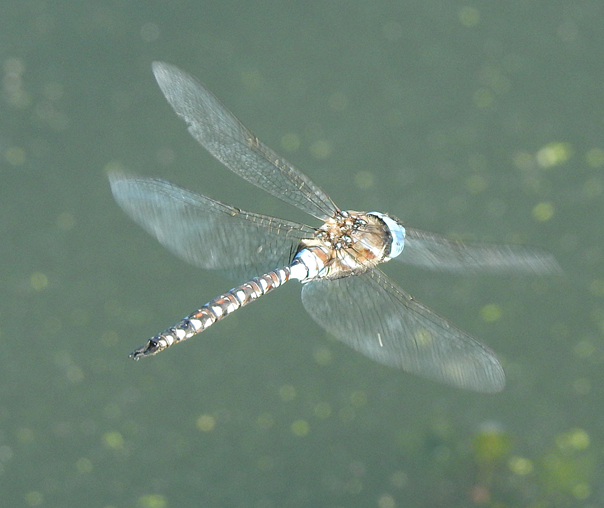 Male Blue-eyed Darner Rhionaeschna multicolor (Odo.: Aeshnidae) Jody Wells
Jochen Möhr's moths from Metchosin this morning. And, as an extra, some mating slugs, found at 3:00 a.m., hanging on a thread of tough slime with a blob of more slime underneath them. This morning, there was nothing left but a bit of dried slime on the wall. [Jeremy Tatum writes: See also Scott Gilmore, 2015 August 16.]
1 Callizzia amorata
1 Campaea perlata
1 Coryphista meadii
3 Eulithis xylina
1 Panthea virginarius
2 Pero sp.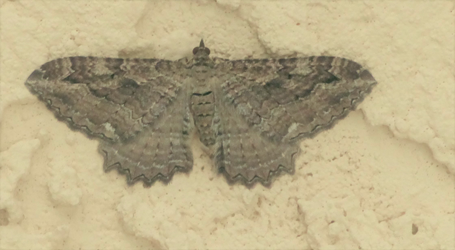 Coryphista meadii (Lep.: Geometridae) Jochen Möhr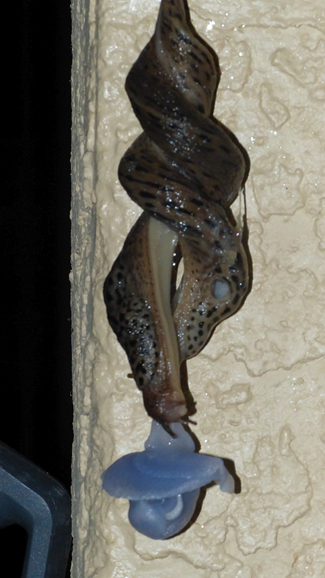 Great Grey Slug Limax maximus (Pul.: Limacidae) Jochen Möhr