2020 May 21 morning
  Spelling:   A sharp-eyed viewer pointed out that on the May 18 morning Invert Alert, I had spelled fourteen as quattuordecim in the text and as quatuordecim in the label to the beetle.  I am always grateful to viewers who let me know of possible mistakes of any sort, and I encourage viewers to continue to do so.  Adam Taylor set this site up for the VNHS so that it is very easy for me to correct mistakes. But in this case my two spellings of fourteen were intentional.  In the version of Latin that I was taught, four was quattuor.  However, when it comes to the spelling of scientific names, the spelling we are supposed to use is the spelling that was used in the original formal scientific description of the organism, whether the author used the "correct" spelling or not.  I admit to not having looked up the original description of the beetle in question, but presumably, rightly or wrongly, it was quatuor there.  There are a number of similar examples.  For example, we have a wasp Vespa pensylvanica.  Another spelling difficulty I have to watch out for is the beetle Coccinella septempunctata and the moth Adela septentrionella.  [I have since learned that septem is the number 7, while septentrio is an adjective meaning "northern".]
   Jody Wells writes yesterday from Saanichton (Cordova) Spit:  Not sure if I have seen this handsome little lad before.    Jody is right – it is a "lad" – i.e. a male,  Purplish Copper: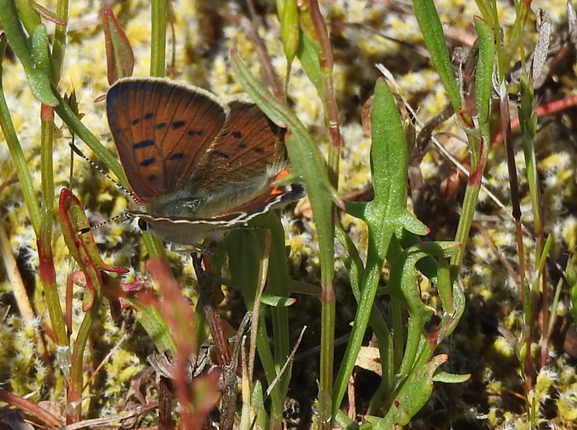 Male Purplish Copper Lycaena helloides (Lep.: Lycaenidae)  Jody Wells
      Val George writes:  Yesterday, May 20, I walked the railway track at Cowichan Station to look for Margined Whites but saw none.  In fact, despite good conditions for butterflies, the only species there were a few Cabbage Whites and Western Spring Azures, and two Satyr Commas.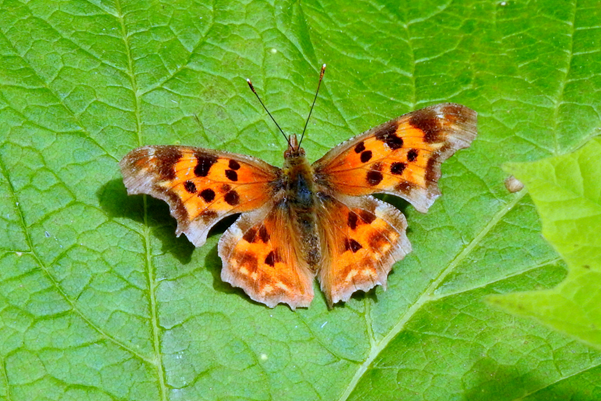 Satyr Comma Polygonia satyrus (Lep.: Nymphalidae)  Val George
   Rosemary Jorna writes:  There were eight or more Seven-spotted Lady Beetles Coccinella septempunctata on a wild black gooseberry bush on the Whiffin Spit yesterday morning.   I was surprised at the difference in size between these two.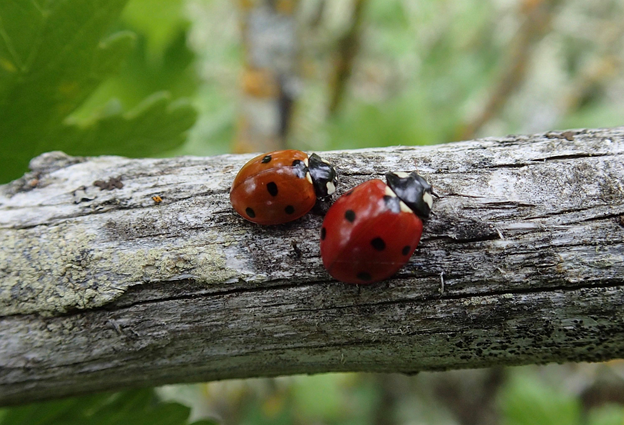 Coccinella septempunctata (Lep.: Coccinellidae)  Rosemary Jorna