2020 May 19 evening
   Mark Wynja writes from Parksville:  On May 26, 2019, I saw a Dreamy Duskywing land along the side of the logging road to Rhododendron Lake. After a very brief observation (no photo), it flew away and was not seen again. This road is reached on the weekends via the NW Bay Logging Road.  I looked for this species numerous times last year and again this year. Then late yesterday (May 18th) I found at least two individuals and was able finally to get photos.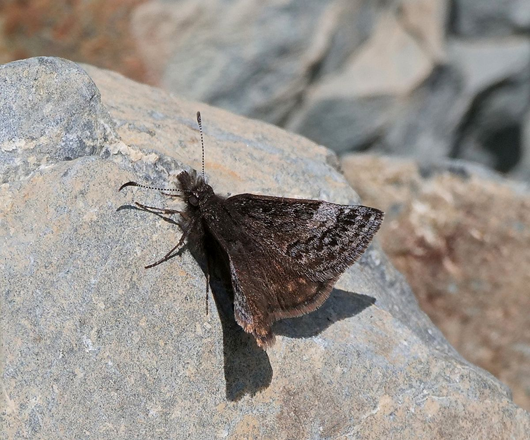 Dreamy Duskywing Erynnis icelus (Lep.: Hesperiidae)  Mark Wynja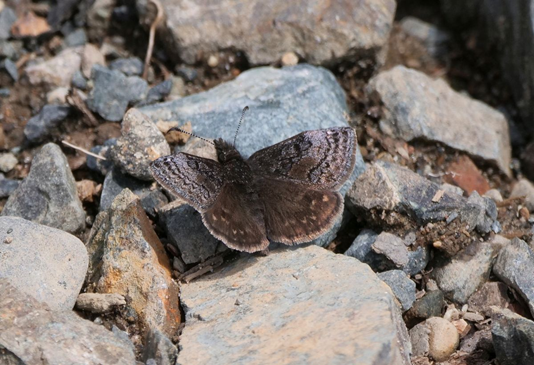 Dreamy Duskywing Erynnis icelus (Lep.: Hesperiidae)  Mark Wynja
   Mark's next photograph (writes Jeremy Tatum) shows that, like the Propertius Duskywing, many of the pale spots on the wings of these skippers are translucent.  (Photographers of  Propertius Duskywing – see if you can get a photo like this, from underneath, showing the translucent spots,)  The exact distribution of these translucent spots helps in the identification of several Erynnis species.  Here there are none in the basal half to two-thirds of each wing.  This is the first report of Erynnis icelus in this Invertebrate Alert site.  Although at first glance it looks somewhat similar to E. propertius, it is a much smaller butterfly.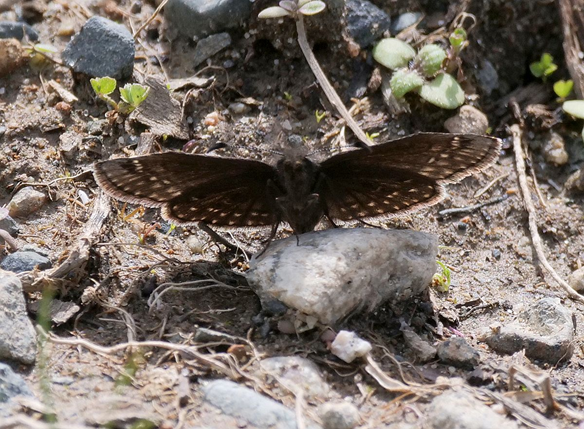 Dreamy Duskywing Erynnis icelus (Lep.: Hesperiidae)  Mark Wynja
   Judy Spearing writes:  I Just found four of these caterpillars by my large Red Elderberry shrub. Any
idea of what these moths are? One fell out of the elderberry and landed on me while I was taking photos.
Jeremy Tatum replies:  It is the caterpillar of the Elder Moth Zotheca tranquilla.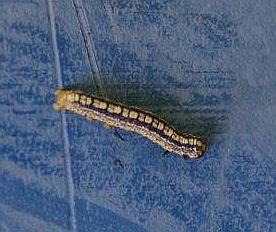 Elder Moth Zotheca tranquilla (Lep.: Noctuidae)
Judy Spearing
   Jeremy Tatum writes:  Here is a cocoon of a plutellid moth, on an oak leaf from Christmas Hill.  We don't (yet) know the species.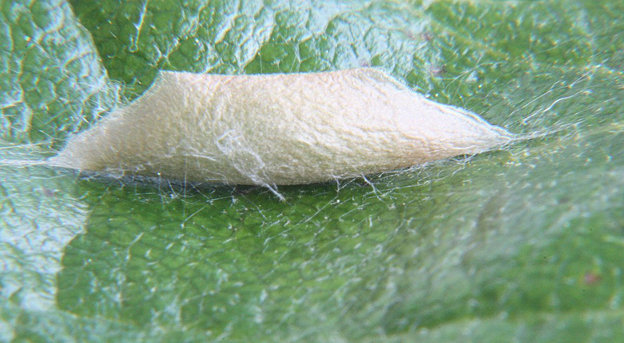 Plutellid cocoon (Lep.: Plutellidae)  Jeremy Tatum
   Jeremy Tatum writes: I visited the Silvery Blue colony at the Colwood cut-off from the Trans-Canada Highway this afternoon.  Almost every lupin head bore several  (even a dozen or more) ova.  I saw about half-a-dozen adult butterflies.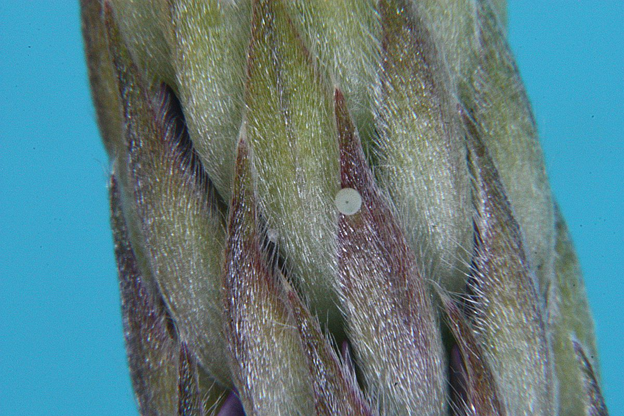 Egg of Silvery Blue Glaucopsyche lygdamus (Lep.: Lycaenidae)  Jeremy Tatum