2017 August 18 evening
For information on the August Butterfly Count and the September Butterfly Walk, please scroll down to the previous posting, 2017 August 18 morning.
Jeremy Tatum writes:  Yesterday I found a woolly bear caterpillar on the boardwalk  over Swan Lake, looking rather lost.  I took it home and offered it a number of foodplants, and it happily accepted willow, as you can see below.  It is none of the several woolly bears that I am familiar with from this area, and it is obviously a "lifer" for me, and quite exciting.  I shan't know what it is until the adult moth emerges next year.  I think it has one more instar to go, and it will be interesting to see what the next instar looks like.
Today I saw a latish Lorquin's Admiral at UVic, and also numerous Woodland Skippers still, nectaring eagerly on Burdock.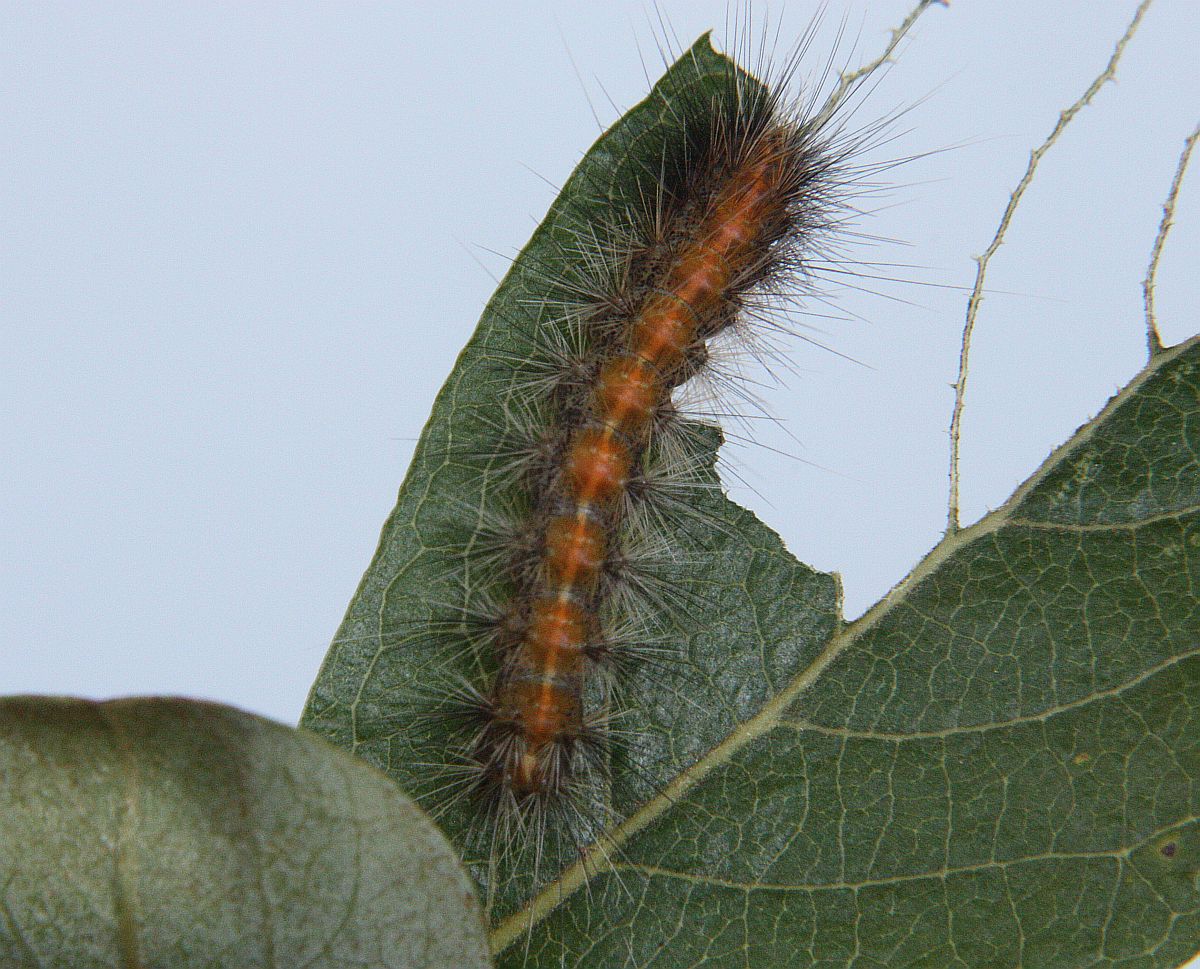 Unknown woolly bear (Lep.: Erebidae – Arctiinae)  Jeremy Tatum
To continue with the bit I was writing about printing the names of animals.  The invertebrates that are discussed in this website belong to several Classes, of which the Class Insecta (with a capital I) is one of the largest.  Others are Arachnida (spiders, mites, harvestmen, etc.), Gastropoda (slugs and snails), etc.  Look at the Index to find the various Classes that the site has featured so far.  And in case you are wondering, Gastropoda is one of several Classes within the larger Phylum Mollusca.
Within each Class are several Orders.  Thus some of the Orders within the Class Insecta are Lepidoptera (butterflies and moths), Odonata (dragonflies and damselflies), Coleoptera (beetles),  Hemiptera (bugs), Hymenoptera (bees, wasps, ants, etc.).  Again, look at the Index to see more of these Order names.
And within each Order are several Families, all of which begin with a capital letter and (for animals) end in -idae.  Thus within the Order Lepidoptera we have Families including Papilionidae (swallowtails and parnassians), Pieridae (whites and sulphurs), Lycaenidae (blues, hairstreaks, elfins, coppers, etc.), Noctuidae, Geometridae, Erebidae, Tortricidae, etc., which are various moth families.
If you find a moth, say, of the Family Noctuidae, you may write that you have found a moth of the Family Noctuidae (with a capital N), or that you have found a noctuid (with a small n).  But don't write that you have found or seen  "a Noctuidae".  That wouldn't quite make sense.  The Red Admiral belongs to the Family Nymphalidae.  It is a nymphalid. But it is not "a Nymphalidae".  For a start, the word "Nymphalidae" is a collective plural noun.
In the caption to each photograph I write the scientific name (genus and species), followed, in parentheses, by a three- or four-letter abbreviation for the Order, and the Family (-idae).   Occasionally I may add a Subfamily name, which ends in -inae.  I do this usually for the recently-formed Family Erebidae, which includes some Subfamilies that formerly had full Family status – as, for example under the photograph above of a woolly bear caterpillar.  More rarely I may refer to a Superfamily, which ends in -oidea.  For example the Superfamily Papilionoidea includes all the "true" butterfly Families (not the skippers).
There are all sorts of other wrinkles about scientific names, but what I have described is enough for the basic purposes of the Website.   I'll discuss English ("common") names in a future posting.