2015 May 01
Reminder!!
The monthly Butterfly Walk led by Aziza Cooper is this Sunday, May 3 at 1pm. As always, we will meet at the top of Mount Tolmie and decide on our destination. The forecast is for sunshine and warm temperatures. Could be a good butterfly day! For info, email Aziza (tanageraz at yahoo.com), or call her cell phone: 250-516-7703.
Aziza also writes:
Appended is a summary of information I've compiled about watching butterflies: books and internet sites of interest. There are also short descriptions of the butterfly count and the butterfly walk.
It's intended to help out those new to this interest, and remind everyone of what is out there to help us.
Additions and suggestions would be welcome.
Butterfly Watchers' Resources
by Aziza Cooper, tanageraz@yahoo.com , April, 2015
Comments and suggestions welcome.
Part 1. Butterfly Count: April to September
Watching butterflies is best done on a warm, sunny day with calm to mild winds. Butterflies are most active in bright sun and when the temperature is above 12 ºC, between about 10am to 4pm. Our counts are held from April through September, and the count period is nine days of each month – from the third Saturday to the fourth Sunday.
Counting is straightforward – just count the number of each species you can confidently identify in any convenient location such as a park, field, street or your back yard. Good tools are close-focus binoculars, a field guide and a camera. Photos of rare or unusual species are appreciated. Anyone can submit as many counts as they wish, as long as they fill out a count form for each location. Our count area is the same area as the Victoria Christmas Bird Count circle, with the northern border at about Island View Road, and the western border at Goldstream.
The Butterfly Count isn't a formal survey with set protocols. It's very informal, and up to the observers to decide how long they spend in the field. It should be a comfortable length so that the observer can fit it into their busy life, rather than a really intensive search.
Please submit your counts on the form at the new link in the VNHS website:
http://www.vicnhs.bc.ca/website/index.php/butterfly-count
Aziza sends out a reminder email for Butterfly Counts and the monthly Butterfly Walk. To receive the reminders, email Aziza at: tanageraz@yahoo.com .
Counts are compiled monthly by species, and a report of the results is published in The Victoria Naturalist early in the following year.
Part 2: Butterfly Walk
The Butterfly walk is held once a month on the first Sunday from April to September. We meet at 1pm at the summit of Mount Tolmie, and decide on our destination at that time. The outing usually lasts about two hours. The walk is weather-permitting, and will be cancelled in case of cloudy or cool weather. Reminder emails are sent out – see above to be added to the email list.
Part 3: Websites and Internet
InvertAlert (VNHS Invertebrate Alert): All terrestrial invertebrates including butterflies. No membership required. Send photos and sightings to jtatum@uvic.ca For Vancouver Island sightings. Link:
http://www.vicnhs.bc.ca/website/index.php/invertebrate-alert
eFauna: species accounts and photos of BC wildlife including butterflies: http://linnet.geog.ubc.ca/efauna/DB_Query/QueryForm.aspx?sort=Genus&ddlVertebrates=141&InvStatus=Both&ddlInsects=&rdRedBlue=Both&ddlVertebrates2=
James Miskelly's photos of Victoria butterflies on eFauna:
http://linnet.geog.ubc.ca/efauna/photoGallery/Gallery.aspx?gr=showall&pid=175&photographer=miskelly,%20james&specrep=0
BCButterflies – a Yahoo postings group for BC observations, membership required. Go to Yahoo Groups to join.
Bugguide: an internet site for i.d. and posting of invertebrates. USA and Canada. Postings may request I.D. help. Membership required to post but not required to view. Link:
http://bugguide.net/node/view/15740
Flickr site: VNHSInvertAlert . Photos of all insects including butterflies. Membership required to post but not required to view photos. Link:
https://www.flickr.com/groups/invertalert/
Victoria Natural History Society (VNHS) website. Natural history of Victoria. Includes calendar of field trips for members, many other resources and links.
http://www.vicnhs.bc.ca/website/index.php
BC Butterfly Atlas: compiling sightings and encouraging surveys to add to knowledge about BC butterflies.
http://www.bcbutterflyatlas.ca/
Part 4: Publications in print
The Victoria Naturalist, Victoria Natural History Society's bimonthly publication. Publishes notice of field trips, annual results of the Butterfly Count, other articles of interest. Magazine included with membership of the Society, and sent as hard copy or electronic version.
Books:
Mike Yip and James Miskelly: Vancouver Island Butterflies. 2014. Species accounts and photos of all species known from Vancouver Island.
Jim P. Brock and Kenn Kaufman: Butterflies of North America (Kaufman Field Guides). 2006. Field guide illustrated with photos.
Jeffrey Glassberg: Butterflies through Binoculars: the West. 2001. Field guide illustrated with photos.
Jon Shepard and Crispin Guppy: Butterflies of British Columbia. 2001. Large hardcover format. Full species accounts and photos.
John Acorn: Butterflies of British Columbia. 2006. Field guide illustrated with paintings.
Ann Nightingale and Claudia Copley, eds. Nature Guide to the Victoria Region. 2012. Chapter on butterflies by James Miskelly with a checklist of Victoria area butterflies.
Jeremy Gatten writes: I was up on Observatory Hill today (May 1) and happened upon a couple of Greater Night-stalking Tiger Beetles (Omus dejeanii). I have only seen them once before, but I guess in the right habitat they are not too hard to come across if you look under woody debris. Other than that, not too much to report. Moths have been fairly slow. I believe I had a new Hydriomena tonight (for the year, at least). I unfortunately lost track of it, so I'll have to see if it comes back to a light later.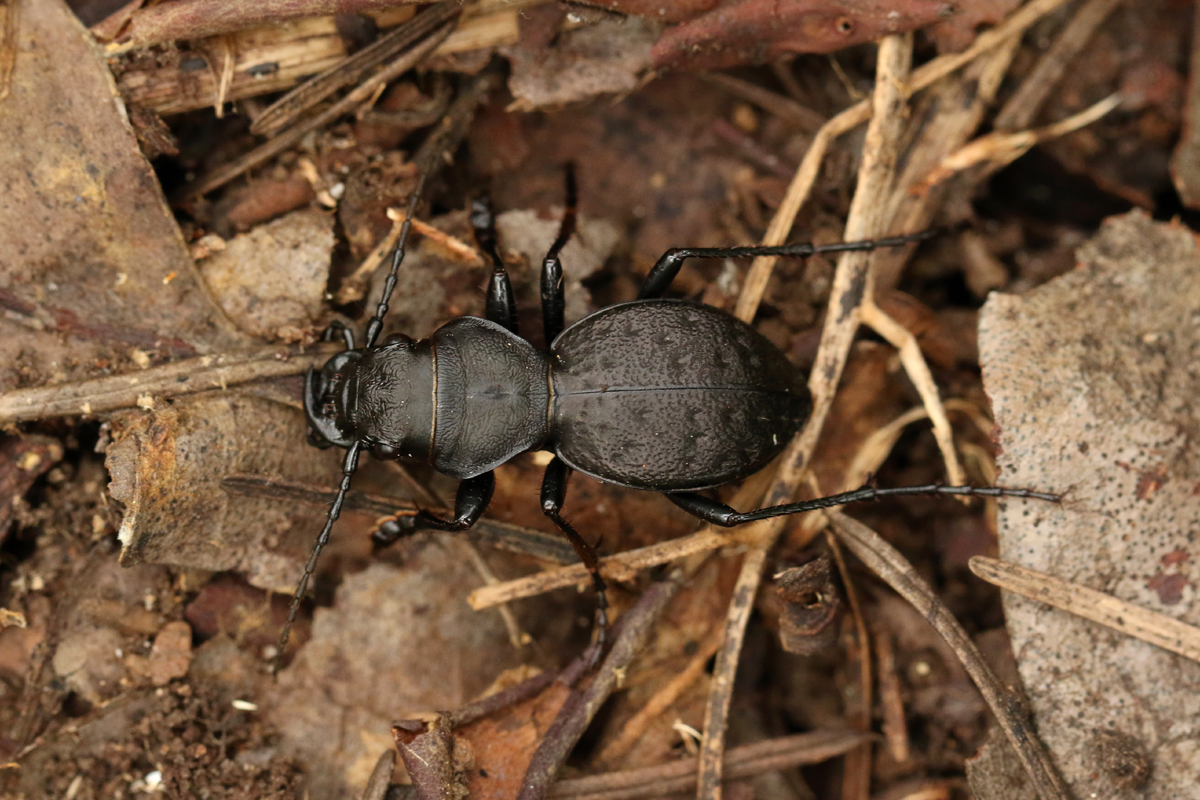 Greater Night-stalking Tiger Beetle
Omus dejeanii
(Col.: Carabidae – Cicindelinae)
Jeremy Gatten