2020 September 13
Jeremy Tatum writes: As I left my Saanich apartment this morning, I saw a Nepytia phantasmaria on the front door of my apartment building, and then, as I arrived at UVic, there was one on the front door of the Elliott Building at the University to greet me. Then, when I switched on my computer, there were more messages awaiting me about this moth. Gordon Hart tells me that the outbreak of this moth – the Phantom Hemlook Looper – covers much of southern British Columbia. Gordon writes that the only butterflies or moths he saw at Maber Flats on September 11 were Pieris rapae and Nepytia phantasmaria.
Sharon Godkin writes that Powell River (not actually on Vancouver Island, but close) was covered with these moths – on windows, sidings, roads, grass, trees, and clouds fluttering in the air around the Douglas Firs in some areas. These moths were everywhere, fluttering in the grass, in the conifers, on the grounds, in the weedy shrub beds; basically on anything. Although the larval foodplant is Western Hemlock and other conifers, these moths were laying their eggs everywhere, even on grass.
While at Maber Flats on September 11, Gordon photographed a spreadwing damselfly, identified for us by Dr Rob Cannings as a female probable Spotted Spreadwing Lestes congener. Rob writes: …the very thin pale thoracic stripes and the apparent step-like rear edge of the dark stripe seen just to the left of the hind femur. A side view would have been conclusive — I'm pretty sure but not positive. Very common at this time of year.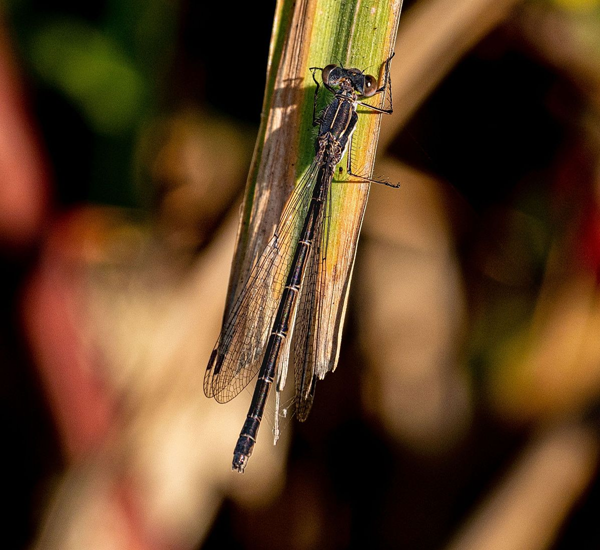 Female probable Spotted Spreadwing Lestes congener (Odo.: Lestidae) Gordon Hart
Much more tomorrow…